Ayman al-Zawahiri Age, Death, Wife, Children, Family, Biography & More
Quick Info→
Hometown: Cairo, Egypt
Death Date: 31/07/2022
Age: 71 Years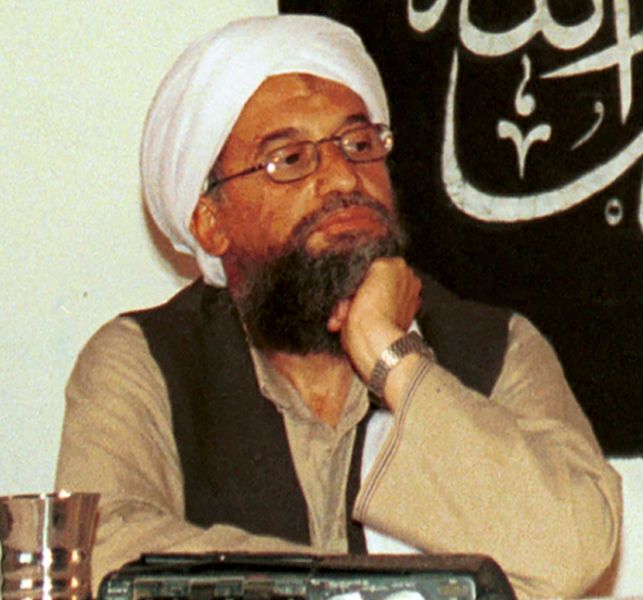 Bio/Wiki
Full name
Ayman Mohammed Rabie al-Zawahiri [1]

CNN
Aliases [2]

FBI
• Abu Muhammad
• Abu Fatima
• Muhammad Ibrahim
• Abu Abdallah
• Abu al-Mu'iz
• The Doctor
• The Teacher
• Nur
• Ustaz
• Abu Mohammed
• Abu Mohammed Nur al-Deen
• Abdel Muaz
• Dr. Ayman al Zawahiri
Profession(s) [3]

FBI
• Physician
• Theologian
• Founder of the Egyptian Islamic Jihad (EIJ)
Known for
Succeeding Osama bin Laden as the leader of terrorist group Al-Qaeda [4]

The Washington Post
Physical Stats & More
Height (approx.)
in centimeters- 183 cm
in meters- 1.83 m
in feet & inches- 6'
Eye Colour
Dark Brown
Hair Colour
Salt & Pepper
Personal Life
Date of Birth
19 June 1951 (Tuesday)
Birthplace
Cairo, Egypt [5]

Al Jazeera
Date of Death
31 July 2022
Place of Death
Kabul, Afghanistan
Age (at the time of death)
71 Years
Death Cause
He was killed in a CIA drone strike in the upscale Sherpur neighborhood of Kabul. [6]

The Washington Post
Zodiac sign
Gemini
Nationality
Egyptian [7]

Al Jazeera
Hometown
Cairo, Egypt [8]

Al Jazeera
School
He attended the state secondary school in Maadi, Cairo. [9]

The New Yorker
College/University
Faculty of Medicine, Cairo University
Educational Qualification(s) [10]

CNN
• In 1974, he graduated with a bachelor's degree in medicine from Cairo University with gayyid giddan (grade "B" in the American grading system).
• In 1978, he graduated with a master's degree in surgery.
Religion
Islam [11]

BBC
Sect/Tribe
Harbi Tribe [12]

From Muhammad to Bin Laden by David Bukay
Hobbies [13]

Al Jazeera
Listening to Music, Watching Films, Poetry
Relationships & More
Marital Status (at the time of death)
Married
Marriage Date
Year, 1978 (first marriage with Azza)
Family
Wife/Spouse
Reportedly, Ayman al-Zawahiri was married at least four times. In 1978, he got married to his first wife Azza Ahmed Nowari, who studied philosophy at Cairo University. [14]

The New Yorker Azza was killed along with her three children, including Mohammad and Aisha, in December 2001 in a U.S. attack on the family's residence in Afghanistan. [15]

CNN One of his four wives is Umaima Hassan.
Children
Son- 1
• Mohammed (1988)
Daughter- 6
• Fatima (born in 1981)
• Umayma (named after Zawahiri's mother)
• Nabila (born in 1986)
• Khadiga (born in 1987)
• Aisha (born in 1997) - She had Down syndrome.
• Nawwar (born in 2005 to one of Al-Zawahiri's three surviving wives)

Note: Aisha and Mohammed were killed along with their mother, Azza, in December 2001 in a U.S. attack on the family's residence in Afghanistan. [16]

CNN
Parents
Father- Dr. Mohammed Rabie al-Zawahiri (a professor of pharmacology at Ain Shams University, in Cairo)
Mother- Umayma Azzam (belonged to a wealthy and politically active clan)
Siblings
Brother- 2
• Muhammad al-Zawahiri (younger)

Note: In 1999, he was arrested in the UAE on charges of undergoing military training in Albania and was sentenced to death after being extradited to Egypt, where he was held as a political detainee in Tora Prison in Cairo. [17]

Counter Extremism Project On 17 March 2011, the Supreme Council of the Armed Forces released him from prison. [18]

The New York Times On 17 August 2013, he was arrested at his home in Giza by the Egyptian authorities, and in 2017, he was acquitted. [19]

Daily News Egypt
• Hussein (architect)
Sister- 2
• Umnya (twin sister) (doctor)
• Heba Mohamed al-Zawahiri (younger) (a professor of medical oncology at the National Cancer Institute, Cairo University)
Embed from Getty Images
Other Relatives
Maternal Grandfather- Dr. Abd al-Wahab Azzam (president of Cairo University and the founder and director of King Saud University, in Riyadh. He had also served at various times as the Egyptian ambassador to Pakistan, Yemen, and Saudi Arabia.) [20]

The Nww Yorker

Note: One of his relatives named Mohammed al-Ahmadi al-Zawahiri became the Grand Imam of Al-Azhar, the thousand-year-old university in the heart of Old Cairo, which is still the center of Islamic learning in the Middle East. [21]

The New Yorker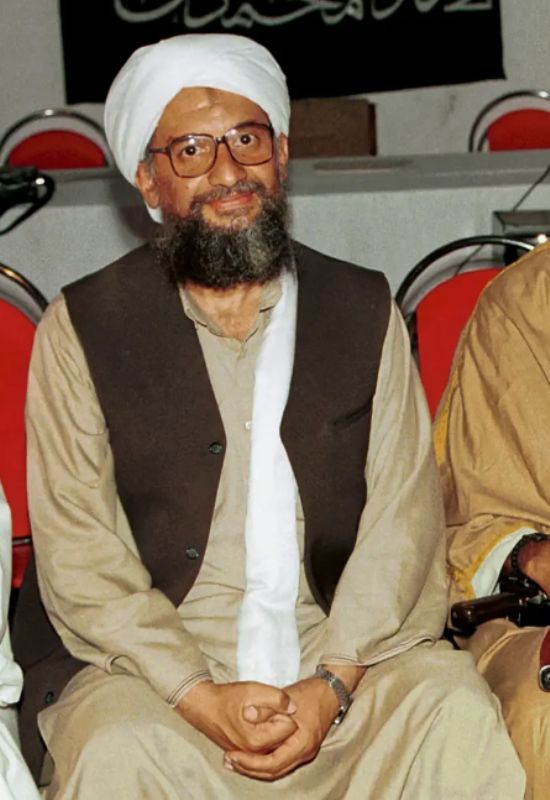 Some Lesser Known Facts About Ayman al-Zawahiri
Who is Ayman al-Zawahiri?

Ayman al-Zawahiri was an Egyptian-born physicist and terrorist leader, who took over as head of al-Qaeda after the death of Osama bin Laden. One of the FBI's most wanted terrorists, al-Zawahiri played a defining role in al Qaeda, a terrorist group that he led from June 2011 until his death in July 2022; he was killed in Kabul by a U.S. drone strike.

Distinguished Family

His parents, Dr. Rabie al-Zawahiri and Umayma, belonged to two of the most prominent families in Egypt. The Zawahiri clan is known for creating a medical dynasty in Egypt. His father, Rabie, was a professor of pharmacology at Ain Shams University in Cairo. One of Ayman's uncles was a highly regarded dermatologist and an expert on venereal diseases. The tradition of medical professionals in the family continued into the next generation. Reportedly, among forty-six members of the family, thirty-one were doctors or chemists or pharmacists, and among the rest were an ambassador, a judge, and a member of parliament. His mother, Umayma Azzam, belonged to a family that was equally distinguished but wealthier. One of his maternal uncles was a founding secretary-general of the Arab League. [22]The New Yorker

Upbringing

In 1960, Ayman al-Zawahiri's parents moved from Heliopolis to Maadi, a leafy suburban district south of Cairo, Egypt, where they settled into an apartment on Street 100. Later, the couple moved to a rented duplex at No. 10, Street 154, where Ayman and his siblings were born. Ayman al-Zawahiri grew up in an area where there were more churches than mosques. Although Maadi was not known for public displays of religious zeal at that time, Ayman al-Zawahiri's parents were religious but not overtly pious. Ayman's father had a reputation as a devoted and slightly distracted academic, and he was beloved by his students and by the neighborhood children. His father would often visit Czechoslovakia for his research work. Reportedly, Ayman's father would often return from his foreign tours laden with toys for the children, and he would often take Ayman and other children to the movies; Ayman enjoyed cartoons and Disney movies. In the summer, the family would visit a beach in Alexandria. Reportedly, the Zawahiris owned a car only when Ayman graduated from medical school. Ayman's mother, Umayma, is an accomplished cook, and she is known for her "kunafa," a pastry of shredded phyllo filled with cheese and nuts and usually drenched in orange-blossom syrup. Some sources claim that he was very close to his mother, and both shared a love of literature. According to Mahfouz Azzam, Ayman's maternal uncle, although Ayman maintained the Zawahiri medical tradition, he was closer in temperament to his mother's side of the family. Mahfouz Azzam says,

Ayman told me that his love of medicine was probably inherited. But politics was also in his genes."

According to Samir Raafat, the historian of the suburb, Ayman grew up in a very traditional home. Raafat says,

A lot of people will tell you that Ayman was a vulnerable young man. He grew up in a very traditional home, but the area he lived in was a cosmopolitan, secular environment. You have to blend in or totally retrench." [23]The New Yorker

Excellent Student

Ayman was a bookworm who hated contact sports as he thought they were "inhumane." Reportedly, while growing up, he regularly attended prayers at the Hussein Sidki Mosque, which was named after a famous actor who renounced his profession because he considered it ungodly. According to Zaki Mohamed Zaki, a Cairo journalist who was a classmate of Ayman, although Ayman was an excellent student, he was often spotted daydreaming in class. Zaki says,

He was a mysterious character, closed and introverted. He was extremely intelligent, and all the teachers respected him. He had a very systematic way of thinking, like that of an older guy. He could understand in five minutes what it would take other students an hour to understand. I would call him a genius." [24]The New Yorker

Sayyid Qutb and Muslim Brotherhood

Sayyid Qutb, an Egyptian author, educator, Islamic scholar, theorist, revolutionary, poet, and a leading member of the Egyptian Muslim Brotherhood in the 1950s and 1960s, had a great impact on Ayman's life, and Ayman also joined the Muslim Brotherhood; at that time, he was 14 years old. Qutb spent two years at Colorado State College of Education, in Greeley, During his stay in the United States, Qutb witnessed that the Americans were very casual about religion, and churches were not less than entertainment hubs in the country, where people can dance and sing amid prayers. By the time Qutb returned to Egypt, he had become a radically changed man; he had re-created himself as a militant Muslim. Later, Qutb, with the help of the Muslim Brothers, instigated an uprising against the British in Egypt following which Qutb was captured by the Nasser government and was sent to prison, where he suffered torture. Later, the stories of Qutb's suffering in prison formed a kind of Passion play for Islamic fundamentalists. According to some human rights activists in Cairo, America's tragedy on September 11th was born in the prisons of Egypt as torture in prisons of Egypt created an appetite for revenge, first in Sayyid Qutb and later in his acolytes, including Ayman al-Zawahiri. Reportedly, Ayman al-Zawahiri repeatedly heard about the greatness of Qutb's character and the terrible things he endured in prison. [25]BBC

Underground Cell

In 1966, after Qutb was executed by hanging for plotting the assassination of Egyptian President Gamal Abdel Nasser, Ayman formed an 'underground cell' with the help of some students from Maadi High School and other schools. The aim of this cell was to overthrow the government and establish an Islamic state. In 1981, Zawahiri testified about his radical activities under this 'underground cell' when he was put on trial for conspiring in the assassination of Anwar al-Sadat. [26]The New Yorker

Egyptian Islamic Jihad

Zawahiri once claimed that by 1974, his group, which he started with four members, had grown to forty members. Like Zawahiri's, various underground groups had grown in Egypt, and in the late seventies, four of these groups, including Zawahiri's, merged to form Egyptian Islamic Jihad. [27]The New Yorker

A Conservative Marriage

After graduating from medical school in 1974, he spent three years as a surgeon in the Egyptian Army. At that time, Ayman was in his late twenties, and the family had started seeking a suitable bride for him. According to his family members, Ayman had never had a girlfriend. In 1978, he got married to Azza Ahmed Nowari, the daughter of a prominent Cairo family, at the Continental Hotel in Opera Square; it was a conservative wedding ceremony, where there was no music, photographs, or gaiety, and the venue had separate areas for men and women. [28]The New Yorker

First Connection with Afghanistan

Zawahiri wrote in his memoir that his connection with Afghanistan began in 1980 when the director of a Muslim Brothers' clinic in Cairo asked Zawahiri if he would like to accompany him to Pakistan to tend to the Afghan refugees to which Zawahiri  "immediately agreed." Zawahiri travelled to Peshawar, where he spent four months in Pakistan, working for the Red Crescent Society, the Islamic arm of the Red Cross. During his stay in Pakistan, he made several trips across the border into Afghanistan by crossing the Khyber Pass. [29]New York Post

Accused of aiding in the assassination of Sadat

In 1981, Zawahiri was arrested with more than three hundred militants who were accused of aiding in the assassination of the third President of Egypt, Sadat; Zawahiri was sentenced to three years in prison for weapons possession. [30]CNN Reportedly, Zawahiri was tortured in prison, where he confronted Sheikh Omar Abdel Rahman, Egypt's best-known Islamist at that time. In the Cairo prison, the two would often have heated debates, and soon, their rivalry became extreme. In 1984, when Zawahiri was released from prison, he had become a hardened radical.

Courting Osama bin Laden

After his release from the Cairo prison in 1984, Zawahiri decided to leave Egypt. According to his sister Heba, Zawahiri first decided to apply for a surgery fellowship in England; however, he later decided to work at a medical clinic in Jidda, Saudi Arabia, where he arrived in 1985. Zawahiri met Osama bin Laden for the first time in 1987 in Peshawar, Pakistan, where Osama bin Laden was running a base for mujahideen called Maktab al-Khadamat (MAK); founded by the Palestinian Sheikh Abdullah Yusuf Azzam; at that time, Zawahiri was thirty-four, while Bin Laden was twenty-eight years old. Osama bin Laden lived a life of boundless wealth and pleasure, and his family's company, Saudi Binladin Group, was considered one of the largest companies in the Middle East. Osama didn't have the underground experience that Zawahiri had, and neither he was a religious pious; however, the Soviet invasion of Afghanistan in 1979 made Bin Laden a radical Muslim. Soon, al-Zawahri became Bin Laden's personal physician. Some journalists claim that it was al-Zawahri who created a revolution inside of Bin Laden. Both had a deal, al-Zawahri would supply the political acumen and an educated leadership cadre to turn Bin Laden's loose coalition, while Bin Laden would provide money and prestige. Some counterterrorism experts believe that al-Zawahri was more responsible than Bin Laden for the attacks on the United States. [31]The New York Times

Suicide Bombers

Zawahiri was a pioneer in the use of suicide bombers, and he played a crucial role to make suicide bombers a signature of Jihad assassinations. Reportedly, Zawahiri would often tape the bomber's vows of martyrdom on the eve of the mission. On 7 August 1998, suicide bombers attacked the US embassies in Kenya and Tanzania. In 1999, he was indicted for the US embassy bombings in Kenya and Tanzania. An Egyptian court awarded him the death sentence for an alleged plot against US interests in Albania. [32]CNN

Setting up training camps

During the early nineties, Zawahiri travelled extensively to many regions including the Balkans, Austria, Dagestan, Yemen, Iraq, Iran, the Philippines, and even Argentina on fake passports; he set up training camps in these areas. [33]The New Yorker

Planned to blow up the Egyptian Embassy

In April 1995, Zawahiri planned to assassinate Egyptian President Hosni Mubarak in Addis Ababa, Ethiopia; however, the plan failed, and Hosni Mubarak escaped unhurt. Later, Hosni Mubarak ordered a crackdown to finish off Islamic Jihad. To respond to this crackdown, Zawahiri planned to blow up the Egyptian Embassy in Islamabad, Pakistan, which was executed on 19 November 1995 when two cars filled with explosives crashed through the embassy gates, killing the bombers and sixteen other people. Reportedly, more than sixty people were wounded in the attack; it was considered Jihad's first success under Zawahiri's administration. [34]Al Jazeera

Qaeda al-Jihad

In 1998, al-Zawahiri proposed to unite militant groups in the common cause of killing Americans anywhere, not just in the Middle East. In 2001, al Zawahiri's Egyptian Islamic Jihad officially merged with Bin Laden's Qaeda network to create Qaeda al-Jihad. Soon, al-Zawahiri started appearing in videos as the man sitting at Bin Laden's side. [35]The New York Times

September 11 attacks

Although Bin Laden was the poster boy of the 9/11 attacks, it is believed that the mastermind of the attacks was al-Zawahiri. Reportedly, on 11 September 2001, Zawahiri and bin Laden listened to an Arabic radio station's news flashes about the attacks on the World Trade Center and the Pentagon after they evacuated their quarters in Kandahar and fled into the mountains. [36]The New Yorker

Disappearance and Death Rumours

Following the September 11 attacks and the U.S. invasion of Afghanistan, Ayman al-Zawahiri's whereabouts remained in oblivion for a long time. Although many courses claimed that he was in tribal Pakistan, it could never be confirmed. In 2003, it was rumoured that he was detained in Iran; however, it was later proved to be false. On 13 January 2006, after the CIA received a tip that al-Zawahiri was hiding in Damadola, a Pakistani village near the Afghan border, the agency launched an airstrike on the village; it was aided by Pakistan's ISI. Following the airstrike, many victims were buried unidentified. Although some U.S. government officials claimed that at least four terrorists were killed in the airstrike, it could not be ascertained that Zawahiri was among them. [37]The New Yorker

Al-Qaeda's chief commander

Soon after the death of Osama bin Laden in 2011, speculations became rife that al-Zawahiri would become the leader of al-Qaeda. Former U.S. Deputy National Security Advisor for Combating Terrorism Juan Zarate was one among those who believed al-Zawahiri was the next heir to Bin Laden's al-Qaeda. On 2 May 2011, al-Zawahiri formally became the leader of al-Qaeda. [38]New York Post

Most Wanted Terrorist

Following the bombing of the Egyptian Embassy in Islamabad in 1995, the F.B.I. became interested in Zawahiri. After Zawahiri signed the alliance with Bin Laden in February 1998, the F.B.I. opened a file on him, and a reward of up to US$25 million was offered by the Rewards for Justice Program of the U.S. Department of State for information about Zawahiri's location.

Electronic Messages

Ayman al-Zawahiri released many video and audio messages. In many videos, he was seen alongside Osama bin Laden. After 2003, al-Zawahiri released many videos, but in none of them, he was seen alongside Bin Laden. On 8 June 2011, Zawahiri released a video in which he eulogized Bin Laden. In October 2012, jihadist websites posted a video in which al-Zawahiri was praising the kidnapping of an American citizen, Warren Weinstein, in Pakistan. Through this video, Zawahiri encouraged his followers to kidnap more westerners. In April 2014, an audio of a two-part interview with Zawahiri was posted on a radical Islamist website. In an audio recording released in August 2015, Zawahiri said that al-Qaeda was aligned with the new leader of the Taliban, Mullah Akhtar Mohammad Mansour. Although Zawahiri questioned the legitimacy of the caliphate established by the Islamic State, in September 2015, he released audio messages in which he suggested that al-Qaeda and ISIS should unify. In May 2016, he pledged allegiance to the new Taliban leader, Mawlawi Haibatullah Akhundzada, through an audio message in which he said,

As the Emir of al Qaeda jihadist group, I present our allegiance to you."

On 13 Mau 2018, in response to US President Donald Trump moving the US embassy from Tel Aviv to Jerusalem, Zawahiri released a video message in which he called for resistance by Palestinians and a jihad against the US. On 5 February 2019, Ayman al-Zawahiri's video speech "The Way of Salvation" was released in which he urged supporters to unite against enemies, including Shiite Muslims, Americans, Russians, French and Chinese. On 5 April 2022, Zawahiri released a video message in which he praised an Indian Muslim girl named Muskan Khan taunted by a crowd for wearing a hijab in Karnataka, India. [39]CNN
BIG : Terror Organization #AlQaeda openly declare support for #Hijab movement in India

Terrorist Al Zawahiri release a video praising Radical muslim girl Muskan who was seen shouting Allah hu Akbar inside an educational institute in Karnataka pic.twitter.com/YalDcRHBbI

— Live Adalat (@LiveAdalat) April 6, 2022
The Killing of Ayman al-Zawahiri

On 31 July 2022, Ayman al-Zawahiri was killed by a United States drone strike in Kabul, Afghanistan. Reportedly, the CIA had received the information about his location months before he was killed, and after the agency received authorization from U.S. President Joe Biden to initiate the strike, they fired two AGM-114 Hellfire missiles at the balcony of al-Zawahiri's house in Kabul, killing him. Following the strike, President Joe Biden announced al-Zawahiri's death in a video statement, and he called the strike a "deliverance of justice." According to U.S. officials, the Taliban violated the agreement for the withdrawal of American forces from the country by granting asylum to al-Zawahiri, while the Taliban condemned the operation, and a spokesman for the Taliban said,

Such actions are a repetition of the failed experiences of the past 20 years and are against the interests of the United States of America, Afghanistan and the region."

According to the New York Times, the house where Zawahiri was hiding belonged to a top aide to Sirajuddin Haqqani, a senior official in the Taliban government.
The news of al-Zawahiri's killing broke two days after the strike was conducted. [40]The New York Times