Can Yaman Height, Age, Girlfriend, Family, Biography & More
Quick Info→
Age: 32 Years
Education: Graduation In Law
Hometown: Suadiye, Turkey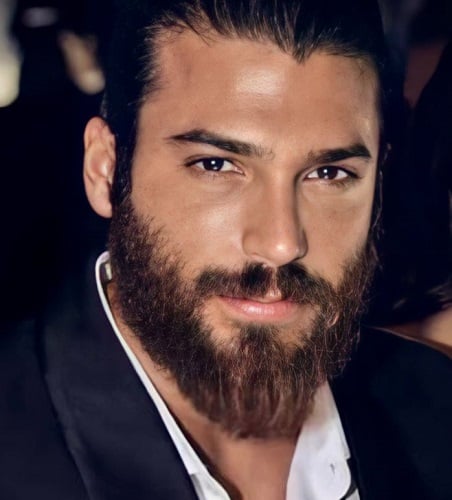 Bio/Wiki
Profession(s)
Actor, Model, and Lawyer
Famous Role
Can Divit in the Turkish TV series 'Erkenci Kuş' (2018)

Physical Stats & More
Height (approx.)
in centimeters- 188 cm
in meters- 1.88 m
in feet & inches- 6' 2"
Weight (approx.)
in kilograms- 75 kg
in pounds- 165 lbs
Body Measurements (approx.)
- Chest: 44 Inches
- Waist: 36 Inches
- Biceps: 16 Inches
Eye Colour
Brown
Hair Colour
Brown
Career
Debut
TV Series: Gönül İşleri (2014) as Bedir

Awards
• 2018: Golden Butterfly for Best Romantic Comedy Actor (Erkenci Kuş)
• 2019: Golden Star for Best TV Series Actor (Erkenci Kuş)
• 2019: Murex d'Or for Best Foreign Actor (Erkenci Kuş)

• 2019: E!News TV for Top Leading Man (Erkenci Kuş)
• 2021: Filming Italy Best Movie Award for TV Personality of the Year
Personal Life
Date of Birth
8 November 1989 (Wednesday)
Age (as of 2021)
32 Years
Birthplace
Suadiye, Istanbul, Turkey
Zodiac sign
Scorpio
Autograph
Nationality
Turkish
Hometown
Suadiye, Istanbul, Turkey
School(s)
• Bilfen Schools, İstanbul, Turkey
• Liceo Italiano IMI, Istanbul, Turkey
• Özel İtalyan Lisesi, Istanbul, Turkey
College/University
Yeditepe University, Istanbul, Turkey
Educational Qualification(s)
• Graduation in Law from Yeditepe University, Istanbul, Turkey (2008-2012) [1]

CNN Turk [2]

LinkedIn- Can Yaman
Ethnicity
Albanian [3]

Daily Xing
Controversies
• Feud with his Hangimiz Sevmedik co-star
In 2016, he threw a tea cup on his co-star Selen Soyder Selen during an argument on the sets of the Turkish TV series 'Hangimiz Sevmedik.' Can was found to be guilty after hearing the witnesses and checking the CCTV footage. He was also fined 7 thousand 830 Turkish lira by the local police. [4]

T24
• Controversial Statement on Demet Özdemir
He made a controversial remark about his co-star of Erkenci Kuş Demet Özdemir in 2020. [5]

Albawaba During an interview, he said,
"I have sex a lot, so I am not pent to talk about it constantly. I cannot hide my feelings towards Özdemir, I am obsessed with the idea of making love to her and is not ashamed of talking about it. Other fellow actors are upset because I am telling the truth. If I had told what was happening behind the scenes of their series, I would have exposed them, but I do not interfere in the affairs of others."
Can added,
"I did not insult Demet. I contacted her and explained my intention and she understood. The intimate desire does not mean sex itself, but rather a series of beautiful feelings in which any one is attracted to the other, something less than love and greater than friendship."
Relationships & More
Marital Status
Unmarried
Affairs/Girlfriends
• Açelya Topaloğlu (Turkish actress; 2015-2016)

• Bestemsu Özdemir (Turkish actress; 2016-2017)

• Rabia Yaman (Turkish fashion editor & stylist; 2017-2018)

• Demet Özdemir (Turkish actress; 2018-2020)

• Diletta Leotta (Italian TV presenter; 2020 to 2021)

• Maria Giovanna Adamo (Neapolitan model; 2022-present)

Family
Parents
Father- Güven Yaman

Mother- Güldam Can

Siblings
None
Favourites
Beverage
Coffee
TV Series
Friends (1994), Prison Break (2005), How I Met Your Mother (2005), Californication (2007)
Singer(s)
Claudio Baglioni, Vasco Rossi, Eros Ramazzotti, Renato Zero
Actor(s)
Kıvanç Tatlıtuğ, Brad Pitt, Christian Bale, Mel Gibson
Athlete(s)
Michael Jordan, Cristiano Ronaldo, Anthony Joshua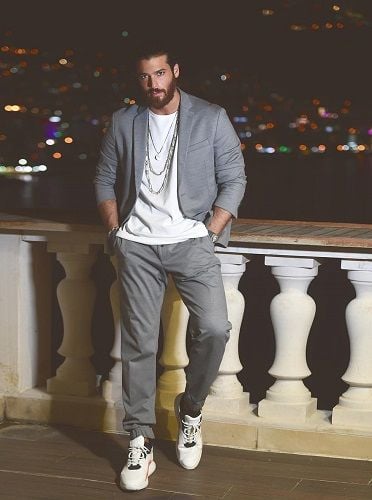 Some Lesser Known Facts About Can Yaman
Can Yaman is a Turkish actor, model, and lawyer. He gained immense popularity with his role as Can Divit in the Turkish TV series 'Erkenci Kuş.'
His parents got separated when he was five years old. During an interview, he shared that in childhood he faced various financial difficulties. He said,


There was a dark time in my life when my father's work started to go bad, very bad, and we didn't even have the money to pay school fees. But if you live in the present, and you engage in what you do, you have no time for fear. Roll up your sleeves, follow your instincts and score: that was my secret. Thanks to a special friend, a genius who did not talk to anyone except me, an Albanian boy with whom I liked to do everything, I began to win one scholarship after another, until I became a lawyer, then an actor."
During his graduation, he studied in America in the exchange program.
He is a certified bartender and has done a bartending course from MSA, Turkey.
After completing his graduation in law, he joined the Turkish lawyer Somay Hukuk Burosu as an intern (Stajyer in Turkish) in Istanbul, Turkey.
He started working at the Turkish attorney PricewaterhouseCoopers in February 2014.
Can has worked as a lawyer at Istanbul Bar Association, Turkey. He has penned down the articles of tax law in the newspaper 'Dunya.'
After working in the corporate sector for a few years, he left his job as he realised that he was not fit for the corporate job. During an interview, while talking about it, he said,


I felt like having an open view but sitting in an office and wearing a suit bothered me a lot. When they gave me an annual leave, I left without coming back. It was on TV that my colleagues saw me next."
He then started a law office in Kartal, Turkey, in partnership with his two friends.
While he was on one of his summer trips, he met the Turkish acting managers Cuneyt Sayil and Ilker Bilgi, who offered him a role in a Turkish TV series.
He then decided to pursue his career in acting and accepted the offer. In an interview, while talking about his parents' reaction on pursuing acting as a career, he said,


Once my mother was in shock. I've been a versatile person since high school. I took the Renaissance men as an example. I would go dancing, go boxing, take guitar lessons, learn foreign languages. I'm a little greedy. While she may like it, my mother is a little panicked. "Son, have you changed your mind again?" He would say it every time, but he is proud to see that I am successful. My dad is cooler. "Do whatever you want to do. I have no doubt that he can succeed," she says. I had no doubts as to whether I would succeed or not. I was just wondering if I would like the life this job has brought me. I decided to enter this business as soon as I felt that I had grown myself well, that I would not deteriorate, that I would not degenerate."
In 2015, he appeared in the Turkish TV series 'İnadına Aşk' in which he played the role of Yalın Aras.
He then appeared in a few Turkish TV series like 'Hangimiz Sevmedik' (2016), 'Dolunay' (2017), and 'Erkenci Kuş' (2018). His TV series Erkenci Kuş gained immense popularity and was dubbed in other languages like Hindi, English, and Tamil.
Can has also worked as a model for various fashion brands.
He is a philanthropist and has started a charity campaign 'Can Yaman For Children.' During an interview, he talked about the campaign. He said,


Then there is the non-profit association that I created to help less fortunate children. I care about children, I want to help the little ones who are in poor conditions. Childhood, adolescence was fundamental periods for my growth."
View this post on Instagram
In an interview, he shared that he was born in an Albanian family. He said,


On the part of my father I am of Albanian descent from Prishtina. My grandfather grew up in Pristina, my grandmother in Skopje. In 1959 we came to Istanbul. Father's relatives speak Albanian. Distant cousins. Because I did not meet them I do not know them. Relatives like the father of my father, grandmother's brothers. They speak Albanian. My grandfather and my grandmother also speak Albanian. Even, there are cases that speak Albanian. But I grew older by the mother. And there we did not speak Albanian, we speak only Turkish. That's why I do not know Albanian. Neither does my dad know, my uncle knows. He was born in Pristina. There are 5 brothers, after him others were born in Turkey. I went to Albania, Tirana and stayed almost a month there. In Albania everyone knew Italian and I spoke Italian."
In 2020, he started dating Diletta Leotta, an Italian TV presenter, but within a short period, the couple broke up. While sharing the news of their breakup the Italian celebrity expert Alessandro Rosica shared an Instagram post in 2021. He wrote,


Can and Demet were not just friends as they had been declaring to the press for years, but a real couple and with a fairly important relationship. In fact, the two actors themselves had declared to the press that they have a feeling that they had never found with other actors, so as to achieve an expression in acting so natural as to act off the cuff and following fewer scripts."

He continued,

Problems arise after the series, managers for professional reasons advise Can and Demet not to go public as a couple. So, they secretly live their love with its ups and downs for about two years, until Can decided to pursue his film career. In Italy, and perhaps as a drop that has overflowed a vast number of people caused by clandestinity, by the unregulated lifestyle of Yaman between clubs and worldliness not well received by Demet's family and by Turkey itself with its own ethical-religious mental closures."

As per the Spanish newspaper El Norte de Castilla,

Diletta Leotta had been overwhelmed by the insistence of Yaman on getting married and throwing a wedding. In fact, the Turk asked the Italian to marry him just a couple of months after they met, but she preferred to be cautious, as Bekia collects. It has been Leotta herself who has broken the silence and has revealed some other details about that surprising breakup. And she has done it with the presenter Silvia Toffanin."
In January 2021, he shifted from Turkey to Italy.
In 2022, the rumours of Can dating Neapolitan model Maria Giovanna Adamo started. Later, a Turkish magazine confirmed the news of their affair. As per the magazine,


It was Can's father who has put the Italian media on the trail of the new romance. For the actor's birthday, his father published a video on his social networks with photographs of his son with different people. Among them was Maria Giovanna, the model who has conquered the Turkish heartthrob."
Can is an avid sports lover and enjoys playing basketball, horse riding, and boxing.
He is a fitness enthusiast and follows a strict workout regimen.
View this post on Instagram
In an interview, he was asked about his views on politics. He said,


I have an opinion on everything, but I don't like to talk about politics. I am a Kemalist, I have certain principles and value judgments. I am a humanist, I believe in being a good person."
Yaman has been featured on the cover of renowned fashion magazines such as Hello!, GQ, Men's Health, and Istanbul Life.
The Turkish actor Cüneyt Sayıl is his acting coach.
He is a dog lover and has uploaded a few photos with dogs on his Instagram account.
His face was featured in the video game "Pasha Fencer" in 2020.
He is considered one of the sexiest men in Turkey. In an interview, while talking about it, he said,


I don't wake up in the morning saying "How handsome am I". This is how God created it, and we have to make peace with it. If people suddenly started looking at me after I became famous, I could say, "Oh, what have I become?" But there is also before that."
He is well-versed in various languages like Turkish, Laz, Italian, English, and German.
In an interview, he was asked whether he was a flirtatious person. He replied,


I've never had an attitude of looking at someone and talking to them. When I enter an environment, I hand the lighter without even looking at the faces of those who want fire, so that women do not think I am looking at them or misunderstand them. However, one day a girl came to the venue and said, "Why are you turning your back on all of us? We like it more."
He served 21 days on duty in compulsory military service in Izmir, Turkey, in 2020.
In 2021, he penned down his autobiography titled ''Can Yaman- Sembra strano anche a me.' In an interview, while talking about his autobiography, he said,


It seems strange to me too, just like the title (laughs). In the book, I tell everything that happened to me before I became an actor. My parents, my childhood, what I experienced, and what led me to become the person I am now."
Some of the books published on Can Yaman are 'Can Yaman, I love you forever. La vera storia' (2020) and 'Ah, Can, Ah!: Letters to Can Yaman' (2021).
He launched his own line of unisex perfume named 'Can Yaman Mania' on 17 July 2021. In an interview, while talking about the perfume, he said,


The perfume, represents me. It contains notes that tell about me because they are the ones I love: strawberry, cocoa, tobacco, whiskey. Perfume is something that brings people closer, if a woman wears it, it's like I'm there with her."
Can enjoys cooking food. While talking to the reporters about his cooking skills, he said,


I know how to prepare traditional Turkish dishes, but the thing my father passed on to me is to use creativity. I open the refrigerator and with what is there I can create delicious recipes."
Can has shared several pictures on his social media accounts in which he can be seen smoking cigarettes and consuming alcohol.
In an interview, while sharing his morning routine. He said,


After waking up for about an hour I have to be quiet, I don't talk to anyone and I eat breakfast my way which is full of sweet and savory washed down with gallons of coffee. I hate eating breakfast outside the home."