Sunil Jakhar Age, Caste, Wife, Children, Family, Biography & More
Quick Info→
Age: 68 Years
Wife: Silvia Jakhar
Hometown: Abohar, Punjab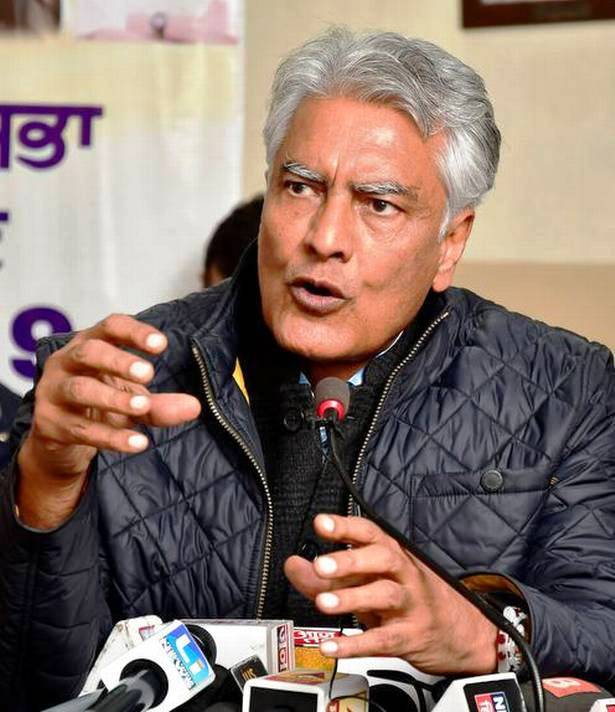 Bio/Wiki
Full name
Sunil Kumar Jakhar [1]

Myneta.info
Profession
Politician
Politics
Political Party
• Bharatiya Janata Party (BJP) (2022-Present)

• Indian National Congress (INC) (1996-2022)

Political Journey
• Joined the Indian National Congress (INC)
• Contested and lost 1996 Lok Sabha elections from the Ferozepur Lok Sabha constituency
• Elected as MLA from Abohar Assembly constituency in 2002, defeating the independent candidate Sudhir Nagpal by 7339 votes
• Re-elected as MLA from Abohar Assembly constituency in 2007, defeating the BJP candidate Ram Kumar by 17, 201 votes
• Re-elected as MLA from Abohar Assembly constituency in 2012, defeating the independent candidate Shiv Lal Doda by a margin of about 9,000 votes
• Served as the Leader of Opposition in the Punjab Vidhan Sabha from 2012 to 2017
• President of the Punjab Pradesh Congress Committee (2017- 2021)
• Contested 2014 general elections from the Ferozepur Lok Sabha constituency, but he was defeated by Shiromani Akali Dal's Sher Singh Ghubaya by a margin of 31,420 votes
• Contested 2017 Punjab Legislative Assembly elections from the Abohar Assembly constituency but he was defeated by the BJP candidate Arun Narang by a margin of 3279 votes
• Elected as MP from Gurdaspur Lok Sabha constituency in the 2017 bypolls
• Resigned from Congress on 14 May 2022
• Joined Bharatiya Janata Party (BJP) on 19 May 2022
• On 2 December 2022, the Bharatiya Janata Party (BJP) announced the inclusion of Sunil Jakhar as a member of its national executive along with Captain Amarinder Singh. [2]

Hindustan Times
Personal Life
Date of Birth
9 February 1954 (Tuesday)
Age (as of 2022)
68 Years
Birthplace
Panjkosi, Punjab
Zodiac sign
Aquarians
Nationality
Indian
Hometown
Abohar, Punjab
College/University
• A government college in Chandigarh
• Kurukshetra University, Haryana
Educational Qualification
• Bachelor of Arts at a government college in Chandigarh (1974)
• Master of Business Administration at Kurukshetra University, Haryana [3]

Myneta.info
Caste
Hindu Jat family [4]

Hindustan Times
Address
Permanent Address
Panjkosi, Teh. Abohar,
Distt. Fazilka-152128, Punjab

Present Address
Punjab Bhawan,
Copernicus Marg,
New Delhi-110001
Controversies
Alleged Violation of Conduct of Election Rules
In 2012, SAD leader Shiv Lal Doda challenged the result of the 2012 Punjab Legislative Assembly elections by filling an election petition in the High Court of Punjab and Haryana against Sunil Jakhar. Doda alleged that the wrong publication of the ballot paper led his supporters, especially the illiterate ones, to cast their vote in favour of Jakhar (who was at serial No. 1) as they failed to find Doda's name at the end of the ballot paper. [5]

Hindustan Times The court dismissed the election petition and charged Doda with a fine of Rs 50,000 stating that the petition was wholly frivolous and vexatious. [6]

Indian Kanoon

Linking Sukhbir Singh Badal to Bhim Tank Murderer Shiv Lal Doda
In 2017, Sunil Jakhar alleged that an officer on special duty (OSD) to the deputy chief minister Sukhbir Singh Badal and a DGP-rank officer were in touch with the liquor baron Shiv Lal Doda during Doda's imprisonment in Fazilka jail. Doda was arrested in the Bhim Tank murder case of Abohar. Jakhar also provided the Punjab CEO with seven mobile phone numbers, which, according to him, were being used by Doda in the jail. During a press conference, Jakhar said that the then-ruling government in Punjab, Shiromani Akali Dal, was trying to hush up the case and demanded a fair investigation. Reportedly, Jakhar also tipped off the Election Commission of India to conduct a raid on Fazilka jail after which 24 outsiders, including SAD leaders from Abohar, were found meeting Doda inside the jail illegally. [7]

PressReader- Hindustan Times

Anti-SC remarks
Dalits lodged a complaint against Sunil Jakhar in April 2022 for his alleged remark against the community, citing that his objectionable language had hurt the sentiments of Dalits. Previously, Jakhar had indirectly targeted Charanjit Singh Channi, who was appointed as Punjab's first Dalit CM, during an interview. Jakhar questioned the INC leaders for their choice of Channi for the role. Later, via a tweet, Jakhar termed him a liability to Congress who pulled INC down in the 2022 Punjab Legislative Assembly elections, which were won by the Aam Aadmi Party (AAP).

Consequently, the furious members of the Sri Guru Ravidas Federation Punjab and Satguru Ravidas Dharam Samaj Punjab burnt an effigy of Jakhar demanding an FIR to be lodged against him.

Later, Sunil Jakhar visted the Sant Ravidas Janam Asthan Mandir at Varanasi to pay homage and tender an apology. [8]

The New Indian Express

Disciplinary Action by Congress
AICC issuing a show-cause notice to Jakhar for his Anti-SC remarks and asked for a reply within a week. There were speculations that of Jakhar would be suspended for a period of two years, and he would be removed from all party posts. When the deadline of the notice approached Jakhar refused to reply to it and said that he was ready to face the consequences. [9]

The Economic Times
Relationships & More
Marital Status
Married
Family
Wife/Spouse
Silvia Jakhar (homemaker)


Note: Silvia Jakhar hails from Switzerland.
Parents
Father- Balram Jakhar (farmer-turned politician, who served as the Governor of Madhya Pradesh and the Speaker of the Lok Sabha for two successive terms from 1980 to 1989)

Mother- Name Not Known
Siblings
Brother(s)- Sajjan Kumar Jakhar (eldest; former agriculture minister during the Beant Singh regime in Punjab), Surinder Jakhar (former chairman of Indian Farmers Fertiliser Cooperative Limited (IFFCO))

Note: Sunil Jakhar is the youngest of three siblings.
Other Relatives
Nephew- Ajay Vir Jakhar (Sajjan Kumar Jakhar's son) (former chairman of the Punjab State Farmers Commission)

Money Factor
Assets/Properties
Movable Assets
• Cash: Rs 5,87,040
• Deposits in Banks, Financial Institutions and Non-Banking Financial
• Companies: Rs 8,60,38,105
• Bonds, Debentures and Shares in companies: Rs 20,09,133
• Personal loans/advance given: Rs 3,71,345
• Motor Vehicles: Rs 1,00,079
• Jewellery: Rs 2,37,000
• Other assets, such as values of claims/ interests: Rs 1,29,45,673

Immovable Assets
• Agricultural Land: Rs 2,67,70,146
• Commercial Buildings: Rs 2,00,000
• Residential Buildings: Rs 12,25,04,180 [10]

Myneta.info

Note: In an affidavit submitted with his nomination papers in 2019, Jakhar declared that he and his wife have immovable assets of Rs 2,88,41,688 and Rs 1,20,63,26,638 respectively. He also declared over Rs 7.37 crore deposits in the Zurcher Kantonal Bank in Zurich, Switzerland, in his wife Silvia Jakhar's name. [11]

Business Standard
Net Worth
Rs 25,17,62,701 (as of 2019) [12]

Myneta.info
Some Lesser Known Facts About Sunil Jakhar
Sunil Jakhar is an Indian politician who was elected as an MLA consecutively three times from the Abohar Assembly constituency (2002-2017) on a party ticket from the Indian National Congress (INC). After serving as the Leader of Opposition in Punjab Vidhan Sabha from 2012 to 2017, he became the President of the Punjab Pradesh Congress Committee (2017- 2021). On 19 May 2022, Sunil Jakhar joined the Bharatiya Janata Party (BJP).
Sunil Jakhar's father, Balram Jakhar, is the longest-serving Speaker of the Lok Sabha. [13]

Business Standard
Following the footsteps of their father, both Sunil and Sajjan ventured into politics and joined the INC. Sajjan Kumar contested the 1997 Punjab Legislative Assembly elections from the Abohar assembly constituency as a candidate of the INC, but he was defeated by the BJP candidate Ram Kumar in the elections. Consequently, the party did not entrust Sajjan with a ticket in the following elections. Meanwhile, Sunil's other brother Surinder actively advocated for farmers' rights, but he never got into electoral politics. Unfortunately, Surinder died in a freak accident while cleaning his revolver at his farm in 2011.
Balram Jakhar's decision to not contest in the 1996 Lok Sabha elections led to the beginning of Sunil Jakhar's political journey. In the elections, Sunil, as a candidate of the INC, contested from the Ferozepur Lok Sabha constituency, but he did not win. The seat was won by Mohan Singh Phalianwala of Bahujan Samaj Party (BSP). Sunil attributed the defeat to his late shifting by the party from Sikar in Rajasthan, a seat that his father had represented twice, to Ferozepur.
After two electoral failures, Sunil struck back when the Gurdaspur Lok Sabha seat fell vacant in 2017 after the demise of four-time MP Vinod Khanna. Jakhar contested the bypoll to fill the seat on a ticket from the INC and won the election defeating the BJP candidate Sawarn Singh Salaria by 1,93,199 votes.
Winning the elections by 1.93 lakh votes, Sunil Jakhar broke the previous record of Congress MP Sukhbans Kaur Bhinder, who had won the Gurdaspur Lok Sabha seat with a margin of 1.51 lakh votes in 1980. [14]

The Indian Express
Jakhar announced his retirement from electoral politics when Rahul Gandhi declared Charanjit Singh Channi as the party's chief ministerial face for the 2022 Punjab Legislative Assembly elections. Jakhar attributed his disappointment to the party leaders who were of the opinion that a Sikh face would be suitable for the CM post in Punjab. He also claimed that the party had rejected him as its chief ministerial candidate because he was a Hindu.
At Lok Sabha, he was a member of the Standing Committee on Science & Technology, Environment & Forests.
On 14 May 2022, he announced his exit from the Indian National Congress in a Facebook live video. While wrapping his address, Jakhar wished Congress good luck and goodbye. [16]

The Indian Express He said,


This is my parting gift, my last words spoken to the Congress men. I have highlighted things which need a chinta not chintan shivir. Good luck and goodbye Congress."