Yati Narsinghanand Saraswati Age, Wife, Family, Caste, Biography & More
Quick Info→
Education: MTech
Hometown: Meerut, Uttar Pradesh
Age: 58 Years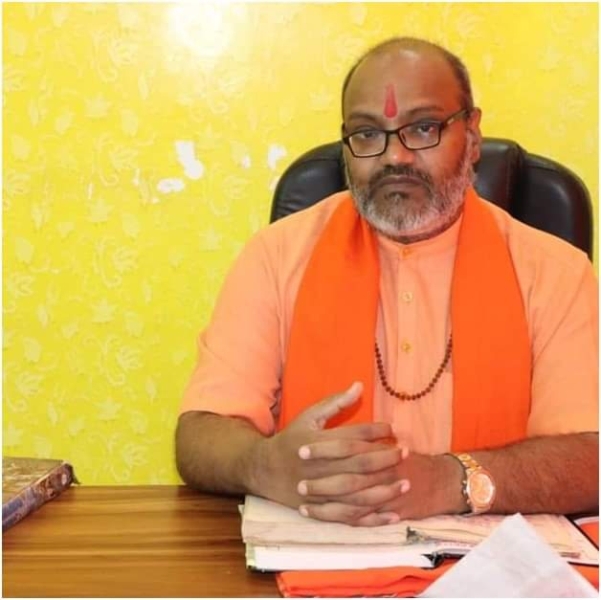 Bio/Wiki
Birth name
Deepak Tyagi [1]

Samachar 24*7
Profession
Head Priest of "Dasna Devi temple"
Famous for
His mission to "Remove Islam and Muslims from the Face of Earth."
Physical Stats & More
Eye Colour
Black
Hair Colour
White and Black
Politics
Political Journey
After returning to India in 1997, he joined Hindu Sangathan and Samajwadi party.
Personal Life
Date of Birth
2 March 1963 (Saturday)
Age (as of 2021)
58 Years
Birthplace
Uttar Pradesh
Nationality
Indian
Hometown
Meerut, Uttar Pradesh
College/University
Moscow Institute of Chemical Machine Building, Moscow, Russia
Educational Qualification
M.tech in Chemical Engineering
Religion
Hinduism [2]

ThePrint
Caste
Brahman [3]

Times Prime
Political Inclination
Supports B.J.P [4]

thequint
Controversies
• Yati Narsinghanand Saraswati has given many inflammatory hate speeches, specially after the murder of kamlesh Tiwari. [5]

BCR News
• Yati Narsinghanand Saraswati has 6 cases of alleged rioting and causing religious hatred.
• Yati Narsinghanand Saraswati were in limelight of every news channel, when a 15 year old Muslim boy was beaten for drinking water from "Dasna Devi Temple", though investigation is still under process, what actually happened in reality. [6]

AKTK
Relationships & More
Marital Status
Married
Family
Children
Son- 1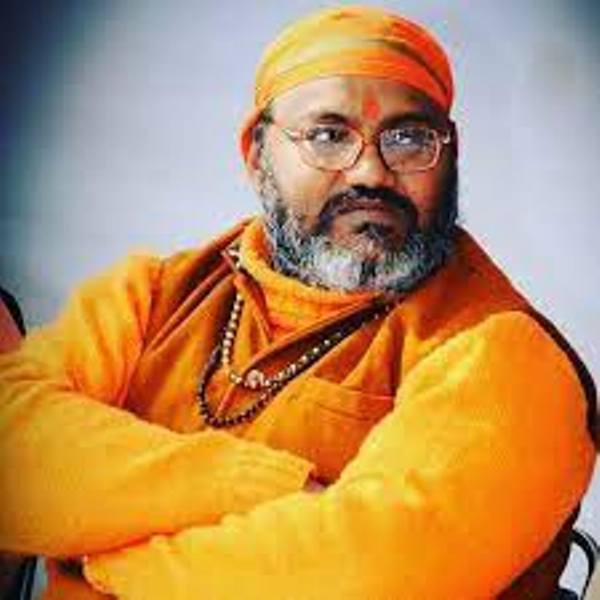 Some Lesser Known Facts About Yati Narsinghanand Saraswati
Yati Narsinghanand Saraswati is a devoted Hindu theist.
His grandfather was a Congress Official from Bulandshahr before independence, and his father was the National level leader of the Union Government Employees.
He grew up in an upper-middle-class family in Uttar Pradesh.
After completing his studies, he worked at several companies, "as an engineer and the head of marketing team" in Russia, and London.
After 9 years living abroad, Yati Narsinghanand Saraswati came to India in 1997 and started teaching mathematics which he considered his vigour.
In an interview, Yati said,


I won all Europe Olympiad (sic)  in Mathematics in 1992, so i thought i should teach children, he added, "but after that, i got an offer from Samajwadi Party to lead their youth brigade. I thought i would start as a youth leader and then slowly get into mainstream politics."
A speech by Yati Narsinghanand Saraswati went viral after he menaces an attack on Islam to wreak vengeance for Kamlesh Tiwari's murder (murdered on 18 October 2019). After Kamlesh Tiwari's murder by suspected two Muslim attackers, Yati Narsinghanand Saraswati protested strongly and stated that "India will be clean of Islam" soon and he also issued a threat to "eliminate" Muslims.
UP police claimed that Yati Narsinghanand Saraswati is an infliction, though his followers consider him as "Dharam Yoddha (Warrior of faith)."
At the time of his youth, Yati Narsinghanand Saraswati was a non-observant Hindu.
Yati Narsinghanand Saraswati wrote to a newspaper "Samachar 24*7"  [8]

Samachar 24*7 and said,


I am Yati Narasimhanand Saraswati, the Mahant of Dasna Devi Mandir. Today I want to tell you the story that made me a Hindu. The stories of people like me are never completed because life is too cruel for us. I very much wish to write some books but maybe it will never happen because the Muslims of our region have turned our life into a hell, from which the possibility of getting out is only in death and no one else. I thank social media which has given a platform to people like me to express my views and I am able to convey my pain to you people. Today I want to tell you the incident, which changed my life. This is a painful and true story of a girl who may have committed suicide later. This incident made such a deep impact on my life that I changed everything, but to be honest, it changed me only. The matter is in 1997, when I Deepak Tyagi (name before my ascetic life) came back to my country after completing "Mtech" from Institute of Chemical Engineering from abroad "Moscow". I wanted to do something big and for this I felt that I should join politics. I was born in an upper middle class farmer family and my baba ji was a Congress functionary of Bulandshahr district before independence, and was one of the very few who did not take pension as a freedom fighter after independence. My father was a national level leader of the Union Government Employees' Union. Because I was born in a Tyagi family, I liked the politics and some of my acquaintances had made me the District President of the Youth Brigade of the Samajwadi Party. Like everyone in politics, I also formed a group of people from my fraternity and organized some Tyagi conferences. Many Tyagi's joined me and I was recognized as a youth leader. Baba ji Congressman, father union leader and leader of Samajwadi Party himself, this means, that I had nothing to do with any idea of ​​Hindutva and anyway I lived abroad and studied religious things only as superstition and pretense. Many Muslims were my friends because of my living in Meerut, because of my studies in abroad and because of my social and political background. One day suddenly I met one of the founding members of BJP, Bhishma Pitamah former MP of Delhi BJP Shri Baikunth Lal Sharma "Prem" ji who had started the work of Hindutva awakening by resigning from the membership of Parliament. He told me such stories of Muslim atrocities that my mind wandered but I could not believe it. Then an incident happened to me. I had my own office opposite to "Shambhu Dayal Degree College", Ghaziabad. A girl from my fraternity means Tyagi family, studying in the same college came to me and told me that she has some work with me. When I asked her work, she said that she would tell me in private. I asked the people sitting with me to go out. When everyone left, suddenly the girl started crying and she kept crying for almost half an hour. When I tried to make her drink water, she did not even drink water and got up and left from there. I was very surprised. I had never seen an unknown woman cry like this. The face of that girl was very innocent and I liked her very much. I felt like I had some relations with her. She went away but remained in my mind. After a few days I almost forgot her, that suddenly she came again and told me that she wanted to talk to me. I then sent my comrades out and asked her to tell. She tried to tell the story but she started crying again and her crying was so bad that even the eyes of an executioner like me filled up, I ordered water and  tea for her. Slowly she became normal and she told me, that a year ago she had befriended a Muslim girl of her class who made her befriend a Muslim boy. Together they had taken some photos of her and she had to make relations with all the Muslim boys in the whole college. Now the situation had become such that they used to make college professors, officers, politicians and city goons happy and in this way she was not the only girl but fifty girls like her were in the clutches of those people. I was stuck. The most important thing in this was, that she told me that all the Muslim boys and girls were completely mixed and many Hindu boys were also with him in their own greed and the only victims of all were Hindu girls. I was very surprised to hear these things. I asked her why are you telling me this, so I can never forget what she told me. She told me that all those Muslims are always visible with me. On the one hand, I talk about the upliftment of the Tyagi's and on the other I live with such people who are destroying sisters and daughters in this way. She said that there are people like me responsible for her ruined life, I felt very bad about this. I said that I do not even know about these things, so she said that this cannot happen. These Muslims send girls to someone, feed someone meat and give money to someone, I must have got something too. Her words shook me to the core. Her tears were beyond my stamina. She told me that if I tell all the Tyagis as my brothers, then she became my sister from this relationship. She told me that one day I too will have a daughter and she too will have to go to degree college and even then the eyes of Muslim wolves will be on my daughter. I said that what is the matter of Hindu-Muslim in this, then she said that this is also "Jihad". I heard the word "Jihad" for the first time that day. The girl had understood them very well by staying among Muslim girls. She told me the meaning of Jihad. I took that girl's hand in my hand and said with great difficulty that it is not necessary to have a daughter for so much injustice, but this has happened to my daughter, after all you are also my daughter. Hearing this, the girl cried very loudly and slowly left from there. She left, I sat down. A lot died inside my mind but I was still alive. The fierce struggle of the mind gave rise to many new feelings. My life had changed. I found out about this whole matter. Everything about that girl was true. I remembered the words of Prem ji and studied the books and history of Islam and understood every single thing. The more I read, the more I felt the pain of that girl. I decided to fight and decided to fight myself. That's when I came to know that the girl had died. She died, and her parents may have forgotten her but for me she is still alive. She still appears in my dreams today. Even today I feel her pain, her tears. Even today, her words that, "as long as these wolves remain, not a single Hindu's daughter will be safe in college," resonates in my ears. I paid tribute to her in the same way as a father and a brother should pay. I did what a father and a brother should do. Whatever I am today is because of my daughter whom I did not give birth to but who actually gave birth to me. I never tell this thing to anyone, but today it has become necessary to tell this thing to everyone. That girl told me what the Hindu has forgotten, it is that the daughter does not belong to any man but of the whole community and when the community is weak, then the daughter has to bear the punishment. Every daughter of the community will have to bear the mistake of the community. Today every Hindu's daughter is walking on the same path of ruin, and no father, no brother is able to save her today. I do not know what has happened to everyone's intellect that we do not want to see such a huge preparation for destruction. We all know that the same thing will happen to all of our daughters, but still our conscience does not wake up. Perhaps the gods have spoiled the intellects of all of us. Now maybe even God is not our master. Today I see that such incidents happen everyday in our country and nobody cares. Even those whose daughters and sisters happen to be like this, they don't care, but I had to and I know that I did very well,  whatever I did. I have no regrets about anything. Whatever I could do, I did and whatever I can do, I will do as long as I am alive. It is sad, that I could not win this battle. I could not save my sisters, my daughters from the bloody claws of "Islamic Jihad". It is sad, that I could not give my daughters a safe country. It is also sad that the traitors ruined the entire race and we could not even do it. That girl could cry, I could not even cry. Today the story of the ruins of thousands of Hindu daughters is buried in my chest, I wish any Hindu would have dared to see my wounds. I wish this cowardly and mortal community would wake up once, I would have shown my chest by tearing it with my hands. I wish the leaders of this community had once said that they would not allow sisters and daughters to become victims of these wolves. I wish this community would have protected its own daughters by leaving Hijras as leaders. There is a lot of pain with no cure, now that's all.  This is my request to the mother to call me to her as soon as possible so that I do not have to see the plight of my sisters, my daughters any more. My children, my lions, after reading this real incident, if you feel, then share it with every Hindu in the world by SHARE. It is possible that due to my pain, a new leader of the community may be born and the sister and daughters of the community may be saved."
In an interview, Yati Narsinghanand Saraswati said,


I had no intention to become a "Sadhu (priest)". I first shook hands with "Hindu Sangathan (organisation)", because i wanted to fight against "Islamic Jihad's" and not to form any government or to collect donations from people for temple. I had many police cases and people started fighting with me. Police also started coming to my house looking for me, seeing which my father, who is very respected man, felt very sad because police used to come to our house only to salute and not to arrest. Only because of me, the police used to come to our house to harass us. The Hindu Sangathan and ministers, with whom I worked also did not give me any security. Then to protect safety and honor of my family, I renounced my family and became a monk. I declared, that I am no longer related to my family so that the police do not harass my family. Now my only goal is to fight against "Islamic Jihads" and this country has to make "Jihad free"."
On 13 March 2021, a Muslim boy named "Asif" claimed that he was beaten up by a follower of "Yati Narsinghanand Saraswati" named, "Shringi Nandan Yadav" for drinking water from the temple tap. Though Yati Narsinghanand Saraswati and Shringi Nandan Yadav said, that these allegations made by the boy are fake and he didn't come inside the temple to drink water. [9]

AKTK
Yati Narsinghanand Saraswati made a video, in which he speaks about ex-Indian president Dr APJ Abdul Kalam and claimed that  APJ Abdul Kalam had a private cell inside the Rashtrapati Bhavan, which was made only to solve the problem of the Muslims, as soon as possible. Also, APJ Abdul Kalam interfered in Afzal Guru's case, who was imprisoned for his hands with militants, in a parliament terror attack in 2001, and still, APJ Abdul Kalam asked him to write a mercy petition, which he would approve later. [10]

Kaam ki Baat
The only focus of Yati Narsinghanand Saraswati is to fight for the honours and respect of all mothers, daughters, and sisters and make India "Islamic Jihad" free to save humanity.