Amit Malviya Age, Caste, Wife, Family, Biography & More
Quick Info→
Education: PGDM In Finance And Systems
Hometown: Prayagraj, Uttar Pradesh
Marital Status: Married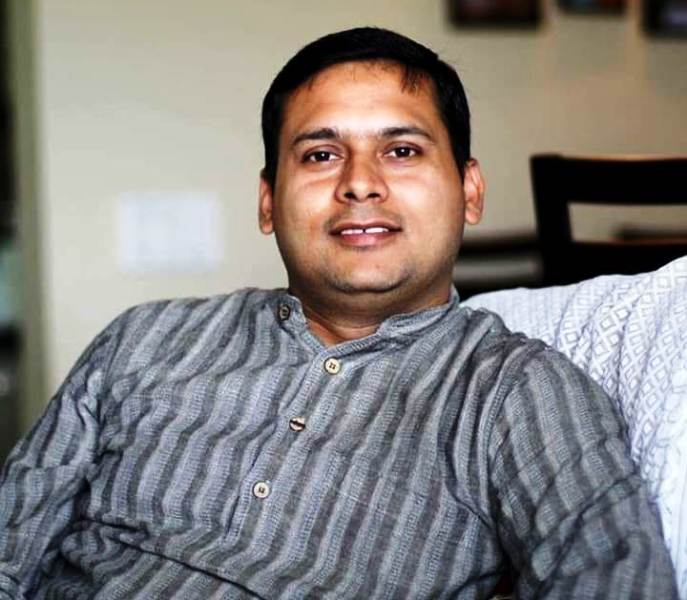 Bio/Wiki
Profession(s)
Politician, Head of the BJP IT Cell
Politics
Political Party
Bharatiya Janata Party (BJP)

Personal Life
Date of Birth
9 October
Age
Not Known
Zodiac sign
Libra
Nationality
Indian
Hometown
Prayagraj, Uttar Pradesh
College/University
• Dayalbagh Educational Institute, Agra, Uttar Pradesh
• Symbiosis Institute of Management Studies, Pune, Maharashtra
Educational Qualification(s)
• Bachelor of Business Management at Dayalbagh Educational Institute, Agra, Uttar Pradesh (1995-1998)
• PGDM in Finance and Systems at Symbiosis Institute of Management Studies, Pune, Maharashtra (1998-2000) [1]

LinkedIn
Controversies
Criticized for Comparing Jawaharlal Nehru with Hardik Patel
In 2017, Malviya shared a collage of pictures of former Prime Minister Jawaharlal Nehru with various women with a caption that read,
"It seems Hardik has more of Nehru's DNA, contrary to what @shaktisinhgohli claimed."

Apparently, Malviya had tried to portray Jawaharlal Nehru as an immoral man by comparing him to Hardik Patel, whose sex tape went viral on the internet in November 2017. Consequently, Malviya was heavily slammed for taking a dig at the former Prime Minister of India. Meanwhile, Alt News published an article explaining that most of the photographs featured Jawaharlal Nehru with his sister or niece. [2]

Alt News

A Series of Disinformation Campaigns
Amit Malviya has received immense criticism for spreading disinformation and peddling fake news from the BJP's social media handles. In December 2019, Malviya posted a video on his Twitter account claiming that 'Pakistan Zindabad' slogans were raised at Lucknow's Clock Tower during the anti-CAA rally. [3]

Amit Malviya's Tweet Later, the fact-checking site Alt News clarified that protesters did not raise pro-Pakistan slogans but were actually chanting 'Kashif Saab Zindabad.' Apparently, Kashif Ahmad was the chief of All India Majlis-E-Ittehadul Muslimeen (AIMIM), who was leading the anti-CAA protest in Lucknow. [4]

Alt News On 16 December 2019, he posted a video on his Twitter handle claiming that Aligarh Muslim University (AMU) students protesting against the CAA had raised anti-Hindu slogans. [5]

Amit Malviya's tweet The caption on the video read,
"AMU students are chanting 'हिंदुओ की कब्र खुदेगी, AMU की धरती पर…"
which translated to,
"The grave of Hindus will be dug on the chest of AMU."
However, Alt News clarified that the students did not raise anti-Hindu slogans. Instead, they were raising slogans against Hindutva, Savarkar, BJP, Brahminism, and casteism. [6]

Alt News Apparently, the students were chanting,
"हिंदुत्व की कब्र खुदेगी, AMU की छाती पर, सावरकर की कब्र खुदेगी, AMU की छाती पर, ये बीजेपी की कब्र खुदेगी, AMU की छाती पर, ब्राह्मणवाद की कब्र खुदेगी, AMU की छाती पर, ये जातीवाद की कब्र."
which translates to
"Grave of Hindutva will be dug on the chest of AMU, grave of Savarkar will be dug on the chest of AMU, this BJP's grave will be dug on the chest of AMU, Brahminism's grave will be dug on the chest of AMU, Casteism's grave will be dug."
In January 2020, he posted a video on his Twitter account which suggested that the women protesting against the CAA at Shaheen Bagh, Dehli, were receiving money for it. The video featured a discussion between a group of men one of whom further claimed that the protest was being "sponsored" by the Congress party. [7]

Amit Malviya's tweet Later, a collaborative investigation by Alt News and Newslaundry discovered that the video was fake. [8]

Alt News

Flagged on Twitter
In 2020, Malviya's tweet was flagged as "manipulated media" based on Twitter's Synthetic and Manipulated Media policy. Malviya had responded to Rahul Gandhi's tweet showing a policeman charging an aged farmer during the 2020–2021 Indian farmers' protest which read,
"It is a very sad photo. Our slogan was 'Jai Jawan, Jai Kisan', but today, PM Modi's arrogance has made the jawan stand against the farmer. This is very dangerous." 
Malviya's responsive tweet challenged Rahul's assertion by comparing two visuals — the first visual was the image posted by Rahul Gandhi, which was labelled "propaganda," and the second visual was a short video clip titled "reality" with a footnote claiming that the police didn't even touch the farmer. Later, Boom, a fact-checking site, approached the farmer in the image, Sukhdev Singh, who confirmed that he had sustained injuries during the police charge. [9]

Boom

Accusations by Subramanian Swamy
Indian politician and member of the BJP Subramanian Swamy engaged in a conflict with Malviya in 2020 claiming that Malviya had run a campaign against him using fake tweets. Swamy also went on to give an ultimatum to the party to dismiss Malviya from the position of head of the BJP IT Cell. [10]

The Print However, when BJP reappointed Malviya as the party's IT cell chief, Swamy tweeted,
"Now that Malaviya has been re appointed, I have this to say: My earlier tweet was to test whether Malviya financed fake ID tweets on his own or not. Now it is clear. PMO Haren Joshi was behind it. I have written to PM two weeks or so ago bringing this to his notice with documents."

Suing 'The Wire'
In October 2022, Amit Malviya filed criminal and civil proceedings against The Wire accusing the news portal of using "forged documents with a view to malign and tarnish" his reputation. The Wire, in a series of news reports, had alleged that Meta, the parent company of social media giants WhatsApp, Facebook, and Instagram, had granted special privileges to Malviya that enabled him to get rid of any content that was critical of the BJP. On the basis of Malviya FIR, the founder Siddharth Vardajaran, along with editors Siddharth Bhatia, M K Venu, and Jahnavi Sen were booked by the Dehli police under sections 420 (cheating), 468 (forgery with the purpose of cheating), 469 (forgery for harming reputation), 471 (using forged document), 500 (defamation), 120B (criminal conspiracy) and 34 (common intention) of IPC. [11]

Hindustan Times

Controversial tweet on Rahul Gandhi
On 28 June 2023, a case was filed against Malviya by the Indian National Congress for allegedly mocking Rahul Gandhi in a tweet; he tweeted,

"Rahul Gandhi is dangerous and playing an insidious game."


Controversial Remarks on Sachin Pilot's Father
In August 2023, Amit received criticism from senior Congress leader Sachin Pilot for claiming that his father bombed Mizoram as an air force pilot on 5 March 1966. Malviya, through a post on X, claimed,

Rajesh Pilot and Suresh Kalmadi were flying the Indian Air Force planes that bombed Aizawl, the capital of Mizoram, on 5 March 1966. Later both became MPs on Congress tickets and ministers in the government. It is clear that Indira Gandhi gave respect and a place in politics as a reward to those who carried out air raids on their own people in the North East"

In response to Amit's claims, Sachin posted a certificate on X that his father received from President V. V. Giri on 10 February 1970, which confirmed his father's appointment as a Pilot Officer in the Indian Air Force. Sachin emphasized the inaccuracies in Amit's statement, stating that his father had been involved in bombing missions over erstwhile East Pakistan during the 1971 Indo-Pak war, not Mizoram. [12]

The Indian Express

Relationships & More
Marital Status
Married
Family
Wife/Spouse
Name Not Known

Some Lesser Known Facts About Amit Malviya
Amit Malviya is an Indian politician who became the national convener of the IT cell of the Bharatiya Janata Party in 2015.
In June 2000, he started his career in Mumbai when he joined ICICI Bank as an Assistant Manager.
In October 2001, he joined Calyon as Business Analyst; he worked there till July 2003.
In 2003, he started working at HSBC and retired from there as a Sr Vice President in 2010.
He was the Vice President – Global Treasury Sales, South at the Bank of America in Bengaluru from July 2010 to June 2012.
Malviya relocated to Delhi in 2015 when he became the head of the BJP IT Cell. His association with the BJP first came into the limelight in 2009 when he co-founded the forum Friends of BJP. The forum aimed to publicize the party and bring it to power. Other founding members included Rajesh Jain, managing director of Mumbai-based IT firm Net Core Solutions, and Piyush Goel, a financial consultant. Together, they launched an SMS campaign to help BJP win more seats in the then-upcoming Lok Sabha elections. They urged people to join the group by logging into www.friendsofbjp.org.
The BJP appointed Malviya as the co-incharge to oversee party affairs in West Bengal ahead of the 2021 Legislative Assembly elections in the state.
In 2020, he co-authored the book 'THE CITIZENSHIP DEBATE: CAA & NRC' with Salman Khurshid.