Bipan Chandra Age, Death, Wife, Children, Family, Biography & More
Quick Info→
Age: 86 Years
Death Date: 30/08/2014
Hometown: Kangra, Himachal Pradesh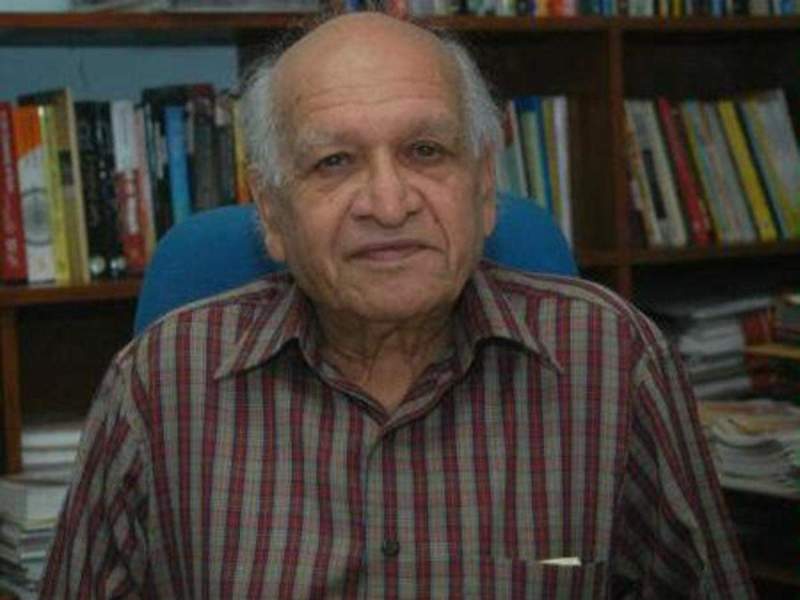 Bio/Wiki
Profession(s)
Author, Historian, Professor
Famous For
Being one of the noted Indian historians, and his book India's Struggle for Independence
Career (Historian)
Specialization
Modern Indian History
First Publication
The Rise and Growth of Economic Nationalism in India: Economic Policies of Indian National Leadership, 1880-1905; published in 1966
Last Publication
The Making of Modern India: From Marx to Gandhi, Orient Blackswan, 2000
Awards, Honours, Achievements
• Padma Bhushan (2010)
• The National Professorship (2007)
• Itihas Ratna from Royal Asiatic Society of Bihar plaque (2013)
• Chairmanship National Book trust (2008)
Personal Life
Date of Birth
24 May 1928 (Saturday)
Birthplace
Kangra in Punjab, British India (Now in Himachal Pradesh, India)
Date of Death
30 August 2014
Place of Death
Gurgaon, Haryana, India
Age (at the time of death)
86 Years
Death Cause
Prolonged Illness [1]

NDTV

Note: He died in sleep.
Zodiac sign
Gemini
Nationality
Indian
Hometown
Kangra, Himachal Pradesh
College/University
• Forman Christian College, Lahore
• Stanford University, California, United States
• University Of Delhi
Educational Qualification(s)
• He did his graduation at Forman Christian College, Lahore in 1946.
• He earned a master's degree in history from Stanford University, California, United States (1948-49).
• He earned his Ph.D. degree from the University Of Delhi in 1963.
Caste
He was born in a Sud family. [2]

The Tribune
Controversy
Bipan Chandra's book India's Struggle for Independence (published in 1987) mentions Bhagat Singh as a 'revolutionary terrorist.' In 2006, Hindutva activist Dinanath Batra sent a letter to HRD Minister Smriti Irani stating that the book should be "banned, recalled from everywhere and destroyed." He also demanded action against the officials and the authors of Delhi University's Directorate of Hindi Medium Implementation for publishing it in Hindi. The same complaint was also filed by the family members of Bhagat Singh. The book "India's Struggle for Independence" written by Bipan Chandra, which has been part of DU's curriculum for over 20 years, mentions Bhagat Singh, Chandrashekhar Azad, Surya Sen, and others as "revolutionary terrorists" in Chapter 20. In 2016, famous historians Romila Thapar, Irfan Habib, and Amar Farooqi said that banning the sale of a book by Delhi University because it referred to Bhagat Singh as a "revolutionary terrorist", showed "ignorance" to the world as martyrs had used this term for themselves. The Hindi version of this book "Bharat ka Swantrata Sangharsh" was published by Delhi University's Directorate of Hindi Medium Implementation in 1990. [3]

The Hindu

Relationships & More
Marital Status (at the time of death)
Widower
Family
Wife
Usha Chandra
Children
He had two children.
Favourite Things
Favorite Leader(s)
Jawaharlal Nehru, Mahatma Gandhi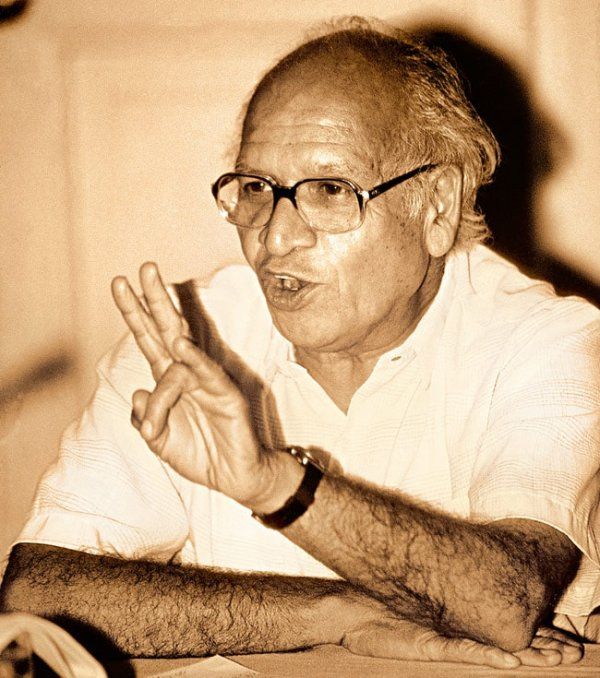 Some Lesser Known Facts About Bipan Chandra
Professor Bipan Chandra was an Indian author, distinguished historian, and teacher. He was an emeritus professor of modern history at Jawaharlal Nehru University, an active participant of the Indian Independence Movement, and a man of letters on Mahatma Gandhi.
He had to leave Lahore during the partition of India. According to Bipan Chandra, after leaving Lahore, he inclined towards Marxism along with some of his intellectual friends. This made him leave his engineering degree, in favor of Economics and History.
When he was studying at Stanford, he attended the lectures of Paul Baran, a well-known Marxist and the author of 'The Political Economy of Growth,' and he developed connections with some communists in the US; however, he was deported to India after he was caught during the anti-Communist campaign run by Senator McCarthy.
In the 1950s, after he returned to India, he started teaching at Hindu College as a lecturer while pursuing his doctoral studies at Delhi University. The dissertation of his doctoral study was titled 'The Rise and Growth of Economic Nationalism in India" in which he restored the works of early Indian nationalists including Dadabhai Naoroji, R. C. Dutt, and G. V. Joshi who started India's anti-colonial struggle and were regarded as the dismissed 'petition wallahs' because they repeatedly requested Britishers to treat Indians better.
In the 1970s, he moved to Jawaharlal Nehru University where he started teaching as a professor. Mr. Chanrda was declared "Professor Emeritus" by the university after his retirement in 2007.
He was designated as the general president of the Indian History Congress held at Amritsar in the year 1985. After that, in 1970, the UGC honoured him as the national professor. Mr. Chandra was the chairman position of the esteemed National Book Trust from 2004 to 2012. In 2010, the Government of India honored him with Padma Bhushan for his marked contribution in the fields of education and literature.
In the early 1950s, Mr. Chandra initiated the journal 'Enquiry' and had been a member of its editorial board for a long duration. The renowned Indian economist Amartya Sen also contributed to the journal.
He taught history at Delhi university for about 43 years and was very popular among not only his own students but also the students of other colleges and departments who were always found standing in the corridor to listen to his lectures. His lectures were so rich in new ideas of subject matter that it would result in long conversations and discussions.
In one of his articles on Jawaharlal Nehru, he mentioned that Nehru became revolutionary during 1933-36 and created distress among the Indian capitalists and the rebels in Congress. This article focuses on the steps that Nehru took at that time to intimidate the capitalists and the counter strategies they followed.
 Bipan Chandra is also known for his analytical works on communalism that he extensively did in the 1970s; his findings were compiled in a book titled Communalism in Modern India (1984).
Bipan Chandra was known to relate past events to the present, and a classic example of this can be found in his monograph titled 'In the Name of Democracy: JP Movement and the Emergency' (2003) in which he mentioned that although Indira Gandhi's imposition of Emergency between 1975 and 1977 troubled him, Jayaprakash Narayan's movement that had the support of communal faces was equally undesirable as it violated many principles of the constitution of India. Earlier, he had already mentioned this in his book titled India After Independence (1999).
Apart from many pieces of research publications and scholarly articles on various issues related to history and society, Bipan Chandra extensively contributed to the curriculum of the NCERT, especially the textbooks on Modern Indian History for the senior secondary schools in India. Besides NCERT textbooks, there are many books written by Chandra that are extensively studied by the aspirants of various competitive examinations in India including the UPSC, one of the most coveted competitive examinations in India.
By the 1980s, he had become one of the established historians in India. Later, his work inspired many scholars who took Chandra's ideologies to incorporate into their doctoral studies. S. Irfan Habib, a noted Indian author and historian, is one of such scholars who was inspired by Dr. Chandra's work. In an interview, Habib said,


I also didn't want to spend two years learning Persian. But, while in JNU, I came across an article by Bipan Chandra, published in 1973, on the ideological foundations of revolutionary terrorist movements. I realised at once that is what I wanted to research. It was in JNU that I found the germ of my doctoral thesis. I expanded on Chandra's article through archival research and field work."
Chandra's first doctoral published work, 'The Rise and Growth of Economic Nationalism in India' in 1966, showed a strong nationalist spirit.
Once, Chandra argued that the representatives of Indian Nationalism from 1880-1905 were not only 'basically anti-imperialist' but also tried to represent the interests of all classes of Indian society.
In 1966, Bipan Chandra criticized the "Traditional Modernity Model" promoted by the Chicago school by terming it irrelevant because it overlooked the major historical features of colonial India.
In 1978, he wrote a long essay on "Karl Marx-His Theories of Asian Societies and Colonial Rule," which was the response to E J Hobsbawm's edition of "Pre-capitalists Economic formations", written from the untranslated early writings of Karl Marx. Chandra had the perception that at least the beginning of the essay by E J Hobsbawm should be made in the 'scientific analysis of Marx's views on colonialism and colonial rule that are yet to be made.'
Bipan Chandra in his book "The Long Term Dynamics of the Indian National Movement" argued that-


the Indian National Movement led by the Indian National Congress was as much a people's struggle for liberation and had as much to offer to the world in terms of lessons in social transformation and bringing about change in the state structure as the 'British, French, Russian, Chinese, Cuban and Vietnamese revolutions.''

He added that-

strategic practice of the Congress-led and Gandhi-guided national movement [has] a certain significance in world history being 'the only actual historical example of a semi-democratic or democratic-type state structure being replaced or transformed, of the broadly Gramscian theoretical perspective of a war of position being successfully practiced.''

The renowned Italian Marxist Gramsci evaluated this 'as the only possible strategy' for social modification 'in the developed countries of the west'.
One of his prime works, Communalism in Modern India, is considered a standard text for anyone who wants to know and understand how and why communalism originated and grew in India, beginning in the second half of the 19th century, and for those who want to raise voice against it.
Chandra argued in one of his writings 'Gandhiji, Secularism, and Communalism' that-


it was because of Gandhiji's total opposition to communalism and strong commitment to secularism that both Hindu and Muslim communalists hated him and conducted a virulent campaign against him, leading in the end to his assassination by a communal fanatic.''

In one of his important economic history contributions, he argued-


colonialism did not lead to 'partial modernization' or 'restricted growth' and whatever little spurts of growth the colony witnessed during the colonial period were not a result of colonialism but were a product of the breaks or the 'loosening of the links' from the colonial stranglehold, caused by various crises faced by the metropolitan countries such as the two World Wars and the Great Depression."
As a critique of colonialism as a structure, he constantly warned that colonialism will not emerge capitalism, industrialization, or modernization but its overthrow is compulsory even today in deciding how India positions itself with the advanced capitalist countries.
Bipan Chandra is not only remembered for his connection with Marxism in Indian history-writing but also for crafting modern history writing: the scientific temper, secularism, ideological honesty, and the focus on Indian economic and social history.
According to an article, Chandra was very energetic and confident. He was a much-admired professor. His voice was very loud and clear during his lectures in the class. He used to speak in a good mix of Hindi and English with a typical Punjabi accent. He was a great scholar who was fully convinced of his own views and perceptions and was always ready for intellectual discussions.
Reportedly, Chandra did not believe the reservation policy and spoke against the step taken by the government to exclude the 'creamy layer' from the OBC category, stating that imposing reservation would discourage the educated sections among the OBCs from the race to get a place in the universities and government jobs. [4]

Forwardpress
In an interview, while talking about globalization and capitalism, he said,


Globalization and capitalism were different phenomena and whereas we must embrace the former, the latter should be opposed."
In the 1980s, when Indian historiography began to bend towards 'secondary' contradictions of Indian society that is caste, tribe, class, and gender, Chandra found himself in the company of old-fashioned Congress. The Congress, of which Chandra was attracted, passed away with Jawaharlal Nehru.
According to an article, by the mid-1980s, Bipan Chandra began to use the terms used by the Italian communist Antonio Gramsci-


colonial India was a semi-hegemonic state and Gandhi understood this better than anyone else; the fact that the Gandhian mass movements became weaker as time passed and failed to involve Muslims in large numbers was downplayed in his narrative of the Indian freedom struggle."
On the demise of Dr. Chandra, political scientist C P Bhambhri said-


He was a formidable scholar whose writings contested colonial and communal historiography."

In an interview with The Times of India Mridula Mukherjee, historian and former director of Nehru Memorial Museum and Library said on Dr. Chandra's demise,

He transformed our understanding of the Moderates (1885-1905) till then seen by many as ineffectual petitioners. Chandra proved how they were actually the founding fathers of India's economic nationalism. Similarly, Bhagat Singh was primarily looked at as a revolutionary. He brought out Bhagat Singh, the thinker, and the intellectual, to the fore."

While speaking on Dr. Chandra's demise Chiki Sarkar, the publisher at Penguin Books India, said,

He was one of our (Penguin India's) most respected authors and whose books on Indian history have been read by generations of readers. We mourn his passing."
In 2008, he narrated a piece of the script of Inquilab, a Hindi documentary by Gauhar Raza; the documentary was based on Indian freedom fighter Bhagat Singh. Besides Bipan Chandra many other prominent intellectuals and scholars also narrated various pieces of the script including Zohra Sehgal, Kuldip Nayar, Irfan Habib, and Swami Agnivesh.
In 2016, Mridula Mukherjee and Aditya Mukherjee, who co-authored the book 'India Since Independence' by Bipan Chandra, came out with public statements on the remarks on Bhagat Singh as a revolutionary terrorist in Bipan Chandra's book India's Struggle for Independence; they said that before coming out with the term 'Revolutionary Terrorism,' Bipan Chandra had considered using some other terms like 'Revolutionary Nationalism' or Revolutionary Socialism,' they said,


Bipan Chandra had considered replacing the term 'Revolutionary Terrorism' with other expressions such as 'revolutionary nationalism' or 'revolutionary socialism."

In 2017, on lifting the ban on Dr. Chandra' book 'India's Struggle for Independence,' the History Congress from Thiruvananthapuram, India said,


The book describes them as revolutionary terrorists, making it clear that no pejorative meaning was intended in using the word 'terrorists', a description Bhagat Singh and his associates used for themselves, and "stifling" of scholarly work should not be allowed in the future."