Oommen Chandy Age, Death, Wife, Children, Family, Biography & More
Quick Info→
Death Cause: Cancer
Age: 79 Years
Wife: Mariamma Oommen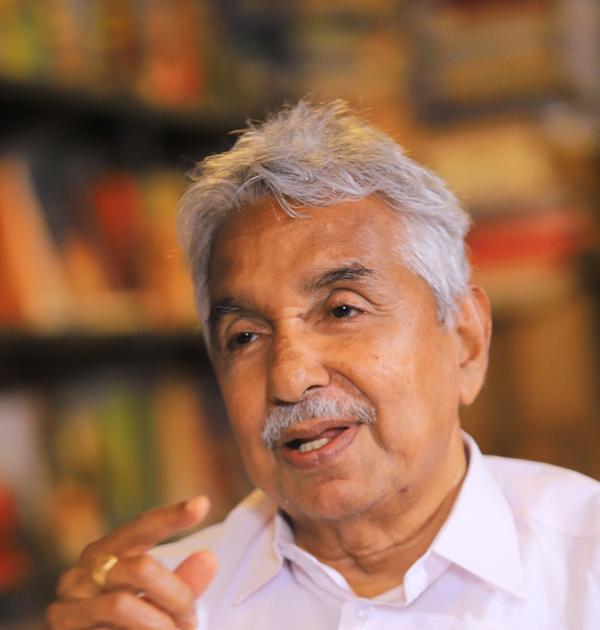 Bio/Wiki
Nickname
Kunju [1]

Onmanorama
Profession
Politician
Politics
Political Party
• Indian National Congress (INC)

• Indian National Congress (U)

Political Journey
Member of Legislative Assembly

• Won the 1970 Kerala Legislative Assembly elections from the Puthuppally constituency on an INC ticket, defeating E. M. George of the CPI(M) party with 7,288 votes

• He represented the Puthuppally constituency as a member of the Kerala Legislative Assembly for 5 decades; he represented the constituency in elections held in 1970, 1977, 1980, 1982, 1987, 1991, 1996, 2001, 2006, 2011, 2016, and 2021.

• Contested and won the 1977 Kerala Legislative Assembly elections for the second time, defeating the BLD candidate P. C. Cherian

• Won the 1980 Kerala Legislative Assembly elections for the third time on a ticket from INC-U, defeating the NDP candidate M. R. G. Panicker by a margin of 13,659 votes

• Won the 1982 Kerala Legislative Assembly elections for the fourth time, defeating an ICS candidate, Thomas Rajan, by 15,983 votes

• Contested and won the 1987 and 1991 Kerala Legislative Assembly elections, defeating the CPI(M) candidate V. N. Vasavan with a margin of 9,164 and 13,811 votes respectively

• Appointed as the convener of the United Democratic Front (UDF) in 1991

• Contested and won the 1996 Kerala Legislative Assembly elections by 10,155 votes

• Elected as the UDF convener in 2001

• Won the 2001 Kerala Legislative Assembly elections, defeating the CPI(M) candidate Cherian Philip by 12,575 votes

• Won the Kerala Legislative Assembly elections for the ninth time in 2006 by a margin of 19,863 votes

• Contested and won the 2011 Kerala Legislative Assembly elections by defeating his closest rival Suja Susan George, a candidate of the CPI(M) party, by 33,255 votes; following this the Congress' legislative party unanimously elected him as its leader

• Won the 2016 Kerala Legislative Assembly elections, defating the CPI(M) candidate Jaik C. Thomas by a margin of 27,092 votes

• Appointed as the General Secretary of the All India Congress Committee (AICC) for Andhra Pradesh on 6 June 2018

• Appointed as a member of the Congress Working Committee in 2018

Minister

• Served as the Minister for Labour of the Kerala government (11 April 1977 - 27 October 1978)

• Served as the Minister for Home for the Government of Kerala (28 December 1981 - 17 March 1982)

• Served as the Minister for Finance for the Government of Kerala (2 July 1991 - 22 June 1994)

Chief Minister of Kerala

• Served as the Chief Minister of Kerala (31 August 2004 - 12 May 2006)

• Elected as the Leader of the Opposition at the Kerala Legislative Assembly (2006)

• Served as the Chief Minister of Kerala (18 May 2011 - 20 May 2016)

Awards & Honours
27 June 2013: United Nations Public Service Award for the Asia-Pacific region in the category of "Preventing and Combating Corruption in the Public Service" for his 'Mass Contact Programme,' an initiative aimed at directly engaging with the people of Kerala to resolve their concerns

Note: The award was presented to him by Wu Hongbo, the UN Under-Secretary-General for Economic and Social Affairs, at a ceremony held at the National Theatre in Manama, Bahrain. The award was based on the theme 'Transformative e-Government and Innovation: Creating a Better Future for All.'
Personal Life
Date of Birth
31 October 1943 (Sunday)
Birthplace
Puthuppally, Kingdom of Travancore, British India (now Kottayam district, Kerala, India)
Date of Death
18 July 2023
Place of Death
Bengaluru

Note: Oommen Chandy died at a private hospital at 4.25 am.
Age (at the time of death)
79 Years
Death Cause
Cancer

Note: Oommen Chandy died while undergoing treatment for cancer; he was battling from cancer since 2019. [2]

The Indian Express
Zodiac sign
Scorpio
Signature
Nationality
Indian
School
St. George Govt. V. H. S. S. school in Puthuppally, Kottayam, Kerala
College/University
• CMS College Kottayam, Kerala
• St. Berchmans College in Changanassery, Kerala
• Government Law College, Ernakulam, Kerala
Educational Qualification(s)
• A pre-university course from CMS College Kottayam
• Bachelor of Arts in Economics from St. Berchmans College
• Bachelor of Law from Government Law College
Religion
Christianity
Address
Puthupally House, Jagathy, Thiruvananthapuram, Kerala
Controversies
Accusations

• 2013 Kerala Solar Panel Scam: Oommen Chandy's name cropped up in the 2013 Kerala Solar Panel Scam. In 2013, business partners and couple Sritha S. Nair and Biju Radhakrishnan were arrested by Kerala police on corruption charges related to their Kochi-based firm, Team Solar Renewable Energy Solutions Pvt. Ltd. The couple allegedly solicited investments from businessmen and NRIs, promising them partnerships in windmill and solar projects. To make their business proposals more enticing, they reportedly flaunted their political connections, notably with then Kerala Chief Minister Oommen Chandy, even producing forged letterheads from the Chief Minister's office. Further investigation revealed that the accused had made several calls to members of the Chief Minister's staff, including personal assistant Tenni Joppen, additional personal assistant Jikkumon Jacob, and Chandy's security guard Salim Raj. Calls were traced to the landline in the Chief Minister's office and Joppen's cell phone, which Chandy frequently used. During her imprisonment, Sritha Nair penned a letter on 19 July 2013 in which she implicated the Kerala Chief Minister Oommen Chandy and other prominent leaders of the United Democratic Front (UDF), alleging that they demanded sexual favours in exchange for business contracts related to the solar project. Nair claimed she was abused at Cliff House, the chief minister's official residence, on 19 September 2012. [3]

Onmanorama According to some reports, she further alleged having paid a bribe of Rs. 1.90 crores to Chandy in 2012. [4]

Outlook In 2018, the Kerala police registered rape cases against Oommen Chandy, AICC general secretary K. C. Venugopal, and others based on these allegations. The case was transferred to the Crime Branch of the Kerala Police, which found no evidence to support Nair's allegations against Chandy. The staff at Cliff House, during the investigation, did not recall seeing either Chandy or Nair on the date of the alleged incident. The Judicial Magistrate Court in Perumbavoor sentenced Nair and her partner to three years in prison, each with a fine of Rs. 10,000. Meanwhile, Chandy was absolved by the commission, which described the case as a fabrication, influenced by political motivations. [5]

The Financial Express

• Vizhinjam Port Corruption: In August 2015, the former Kerala Chief Minister Oommen Chandy-led government and the Adani Group signed an agreement for the Vizhinjam International Deepwater Seaport Project; however, a controversy arose in May 2017 when the Comptroller and Auditor General released a report questioning the project's financials and the method in which it was awarded. Two months later, then Kerala Chief Minister Pinarayi Vijayan appointed a three-member commission under Justice C. N. Ramachandran to investigate the matter. In 2018, the commission exonerated Congress leader and former Chief Minister Oommen Chandy along with others, concluding that there were no specific charges against Chandy, thus negating the need for further investigation. [6]

Business Standard While talking about this, in an interview, C. N. Ramachandran said,

Nobody came forward with any specific corruption charges against any individual and nobody ventured to give any evidence. When there is no allegation of corruption against anyone, there is no need to investigate corruption against anyone. That is why commission has not found corruption against anyone."

• Pattoor Land Case: After the 2016 Kerala Legislative Assembly election, the Vigilance and Anti-Corruption Bureau (VACB) registered an FIR alleging irregularities in an apartment building's construction and the relocation of a sewage pipeline at Pattoor in Thiruvananthapuram, Kerala. Oommen Chandy was the fourth accused, with former Chief Secretary E. K. Bharat Bhushan as the third, and two former Kerala Water Authority (KWA) executive engineers and Artech Realtors' managing director T. S. Ashok as the first, second, and fifth accused respectively. It was alleged that Chandy and Bharat had permitted the pipeline's relocation to facilitate the realtor's development plans on KWA's property. However, in February 2018, Justice K. Abraham Mathew quashed the FIR, stating that the allegations against Chandy and others lacked documental evidence. He further mentioned that the pipeline's shifting didn't financially benefit the builder, thus the accused actions did not violate the Prevention of Corruption Act. The Kerala High Court dismissed the case, criticising the then-top vigilance officer Jacob Thomas for initiating legal action with a flawed FIR, and gave Chandy a clean chit. [7]

Hindustan Times The court said,

Preconceptions and misconceptions, predictions and predeterminations of a police officer shall not be the basis for registration of a case, especially, for an offence under the Prevention of Corruption Act."

• Palmolein Oil Import Scam: The Palmolein Oil Import Scam, also known as the Palm Olein Corruption Case, involves the alleged illegal import of palm olein by the United Democratic Front (UDF) government of Kerala, India, led by K. Karunakaran, through the Power and Energy Limited company. The Kerala government was accused of importing palm olein at an inflated price and with an excessive service charge, violating central and state government procedures. The import orders were authorized by then Kerala Food Secretary P. J. Thomas, resulting in a loss of approximately Rs. 2.32 crores to public finances. A vigilance case was filed against K. Karunakaran, P. J. Thomas, and seven others, with Oommen Chandy also named in the case, despite his opposition to Karunakaran during the scam's peak. After K. Karunakaran's death in December 2010, all proceedings against him ceased. Thomas was released on bail in 2013. The case was reopened in March 2011, and Chandy, then Kerala's Finance Minister, was investigated; however, the investigation found Chandy not guilty of corruption, and he was exonerated by the Kerala High Court on 25 June 2013.

Cases Pending [8]

MyNeta

• 1 charge related to Unnatural offences (IPC Section-377)

• 1 charge related to Cheating and dishonesty inducing delivery of property (IPC Section-420)

• 3 charges related to Punishment for Being a member of an unlawful assembly (IPC Section-143)

• 3 charges related to Every member of unlawful assembly guilty of offence committed in prosecution of common object (IPC Section-149)

Cases Where Convicted [9]

MyNeta

• 2 charges related to Punishment for Rioting (IPC Section-147)

• 1 charge related to joining or continuing in unlawful assembly, knowing it has been commanded to disperse (IPC Section-145)

• 1 charge related to Disobedience to order duly promulgated by public servant (IPC Section-188)

• 1 charge related to Negligent act likely to spread infection of disease dangerous to life (IPC Section-269)

• 1 charge related to Danger or obstruction in public way or line of navigation (IPC Section-283)

• 1 charge related to Acts done by several persons in furtherance of common intention (IPC Section-34)
Relationships & More
Marital Status (at the time of death)
Married
Marriage Date
30 May 1977

Family
Wife/Spouse
Mariamma Oommen

Children
Son- 1
• Chandy Oommen
Daughter- 2
• Maria
• Achu

Note: Image is in wife/spouse section.
Parents
Father- K. O. Chandy (deceased)
Mother- Baby Chandy (deceased)

Siblings
Brother- Alex V. Chandy

Money Factor
Assets/Properties
Movable Assets
• Cash: Rs. 1,000
• Bank Deposits: Rs. 67,704
• Bonds, Debentures, and Shares in Companies: Rs. 78,960
• Jewellery: Rs. 1,52,000

Immovable Assets
• Agricultural Land: Rs. 3,41,00,000

Note: The given estimates of movable and immovable assets are according to the year 2021. It excludes the assets owned by his wife and dependents (minor). [10]

MyNeta
Net Worth (approx.)
Rs. 3,18,72,982

Note: The net worth was for the year 2021. It excludes the net worth of his wife and dependents (minors). [11]

MyNeta
Some Lesser Known Facts About Oommen Chandy
Oommen Chandy (1943-2023) was a prominent Indian politician and a veteran leader of the Indian National Congress. He held the position of Kerala's 10th Chief Minister twice, i.e., from 2004-2006 and 2011-2016. Oommen held the unique distinction of being the only Indian Chief Minister to be awarded for public service by the United Nations. Chandy had been the representative of the Puthuppally constituency in the Kerala Legislative Assembly since 1970, earning him the status of the longest-serving Member of the Legislative Assembly in Kerala's history. He held significant positions within the Indian National Trade Union Congress (INTUC), serving as the President of the Kottayam district committee, the Vice President of the All India Youth Wing, and leading various trade union organizations affiliated with the INTUC. Oommen Chandy passed away while receiving treatment for cancer in Bengaluru in 2023.
Oommen Chandy began his political journey in 1965 with the Kerala Students Union (KSU). His alignment with the Congress party began shortly after joining this union. He was soon appointed as the State General Secretary of the KSU, a student organization that serves as the student wing of the Indian National Congress in Kerala. In 1967, he was appointed as the State President of the union, and in 1970, he was elected as the president of the State Youth Congress.
Oommen Chandy and Mariamma got engaged in 1977, just before the Kerala Legislative Assembly elections. In an interview, Mariamma disclosed how Oommen wrote his first love letter to her after their marriage was fixed. Interestingly, two lines in the letter that particularly struck her were related to the upcoming elections as Oommen was preparing to contest the imminent 1977 Kerala Legislative Assembly elections. The lines in the letter read,


It is election time, keep me in your prayers." [12]Onmanorama

Mariamma further revealed that this was Chandy's second time contesting in the State Legislative Assembly elections, and it was anticipated to be challenging. Her family and relatives, in their apprehension, urged her to pray for Oommen's victory, fearing that she might face blame if he did not succeed. Mariamma devoted herself to praying, and ultimately, Chandy emerged victorious. When Chandy ascended to the position of minister, their wedding plans were postponed due to his demanding schedule. This delay sparked speculation among her relatives that Chandy might cancel the wedding. Despite the rumours, Mariamma never lost faith in Chandy. Their wedding took place on 30 May 1977. Unconventionally, they extended wedding invitations to their guests through a notice published in a newspaper.
Oommen Chandy was known for his composed demeanor, exceptional patience, and unpretentious simplicity. In an interview, his wife, Mariamma Oommen, highlighted his unaffected simplicity, comparing it to his mother, Baby Chandy's, naivety. She explained that, much like his mother, he found it hard to refuse any request or deny anyone assistance. [13]

Onmanorama
Oommen was not particular about his food. Mariamma, in an interview, shared insights into his eating habits and revealed that Oommen was content to eat whatever was within reach even if it happened to be an overripe fruit. Mariamma said,


He is not picky about food. If there is a rotting fruit on the table among many, Kunju would pick that to eat. That is him." [14]Onmanorama

Oommen Chandy was deeply spiritual. In an interview, his daughter Achu shed light on this aspect of his personality, stating that if he hadn't embarked on a political career, he would likely have become a priest. [15]

Onmanorama
Chandy is highly revered for his work as the Chief Minister of Kerala and his dedication to the welfare of the state's people. In an interview, his wife, Mariamma, discussed his profound commitment to the people and his constituency and mentioned that Chandy prioritized them over her. Drawing a parallel with the biblical story of 'Jacob, Rachel, and Leah,' Mariamma elucidated that just as Jacob, who was in love with the beautiful Rachel, had to marry Leah due to unforeseen circumstances, similarly, Chandy's 'Rachel' was the Puthuppally constituency, while she herself was his 'Leah'. [16]

Onmanorama Mariamma Oommen, in the interview, said,


He is more concerned about the people and the constituency. In Old testament, Jacob falls in love with a beautiful Rachel. he embraces her by the heart. But the turn of fate, jacob has to get married to an unattractive Lia. Puthupally is Oommen Chandy's Rachel and I am his Lia. We live on with mutual trust and respect."

Biju, a hobbyist, began collecting badges worn by former Kerala Chief Minister Oommen Chandy at various events in 2004. Over the years, he's amassed around 2,215 badges, the first of which was from Chandy's first event during his 2004 Chief Minister term. This first badge, which Biju pinned on a calendar at home, sparked his hobby. He now stores his extensive collection in three large bags at his home. Chandy, finding Biju's request to collect all his worn badges amusing, agreed and asked his security personnel to preserve them for Biju. As a result, every Sunday, after Chandy returned home from events, his guards, including Pradeep, Ashokan, Ravi, and Seekumar, would hand over the saved badges to Biju. [17]

Onmanorama
After becoming Kerala's Chief Minister on 31 August 2004, Oommen Chandy embraced the motto 'Athivegam Bahudooram' (Fast and Far). He implemented several schemes for laborers, including unemployment benefits and welfare measures. During his term, the number of cochlear implant surgeries significantly increased. The government also initiated the 'Mruthasanjeevani' project to encourage deceased organ donation and transplantation in Kerala, leading to a surge in organ implantation surgeries.
Oommen Chandy significantly contributed to the education and infrastructure sectors during his tenure. Information Technology was made a compulsory subject for school students, making Kerala the first Indian state to introduce such a mandate. The 'Kite Victers' TV channel, an edutainment network for children wholly owned by the Government of Kerala, was inaugurated by A. P. J. Abdul Kalam on 28 July 2005. Chandy's administration also approved the 'Hill Highway' project in 2005, a substantial initiative aimed at connecting the hilly eastern districts of Kerala. Despite being proposed in 1960, the project had initially struggled to gain traction. Chandy inaugurated the first phase of this project, spanning from Kasaragod to Palakkad, at an event in Payyavoor village on 17 January 2005.
During his second term as Chief Minister (2011-2016), the ministry adopted the motto 'Vikasanavum Karuthalum' (Development and Care). In 2012, the Karunya Benevolent scheme was launched for the cost-free treatment of patients with Cancer, Haemophilia, kidney, and heart diseases.
On 12 September 2012, the 'Emerging Kerala 2012–Global Connect' was inaugurated at Kochi, Kerala under Chandy's ministry.
During his second term as Kerala's Chief Minister, Oommen Chandy notably spearheaded significant infrastructure projects. He launched developments such as the Kannur International Airport, the Kochi Metro, the Vizhinjam International Seaport at Thiruvananthapuram, and the SmartCity Kochi project. In 2012, he approved the Thiruvananthapuram Light Metro and Kozhikode Light Metro projects, which proposed a medium-capacity rail system, offering a transportation capacity between light rail and typical heavy-rail rapid transit. Furthermore, in 2013, he initiated the Suburban rail project, connecting Thiruvananthapuram with Chengannur near Kottayam. [18]

Business Standard
Oommen Chandy commissioned the Kochi-Mangaluru Natural Gas Pipeline under the Gail Authority of India Limited (GAIL) in 2013. He also inaugurated the third phase of the 'Technopark' technology park project in Thiruvananthapuram in 2014, turning it into the largest tech park in India. In the same period from 2011 to 2016, the 'Taurus Downtown' project commenced, aiming to create a world-class business infrastructure within Technopark. Furthermore, Chandy inaugurated the second phase of the 'Infopark, Kochi' IT park in May 2015, coinciding with the completion of phase two of the 'InfoPark Thrissur' construction.
During Oommen Chandy's second term as Chief Minister of Kerala, the state-owned IT and technology park, 'Cyberpark Kozhikode', was officially opened by IT Minister P. K. Kunhalikutty on 15 February 2014. This was followed by the inauguration of 'UL CyberPark', another major IT park, in Kozhikode in January 2016. Chandy's tenure also saw significant administrative restructuring, with the formation of 12 new Taluks, 28 new Municipalities, and the Kannur Municipal Corporation, marking the most extensive Taluk delimitation in Kerala since 1957. This was done to promote effective decentralisation and proper resource allocation across the state. Additionally, the Chandy government undertook numerous infrastructure projects, including the construction of several state highways, and in 2014, it decided to widen the state's national highways to 45 meters. [19]

The Indian Express
Under Oommen Chandy's leadership, Kerala saw extensive infrastructural development, with the construction of approximately 227 road bridges valued at nearly Rs. 1,600 crores. Key projects included the Karamana-Kaliyikkavila bypass and Kazhakootam-Karode bypass for the city of Thiruvananthapuram, which were initiated and commenced during his term. Apart from infrastructure, Chandy also focused on public engagement. On 20 April 2011, he introduced the 'Mass Contact Programme', an initiative aimed at addressing the grievances of Kerala's residents directly.
Under Oommen Chandy's leadership, Kerala established government medical colleges in all 14 districts, marking the first such initiative in 31 years. Notably, the General Hospital in Manjeri was converted into a medical college. His second term as Chief Minister also saw the foundation of several public institutions including the National University of Advanced Legal Studies in Kochi (2005), Thunchath Ezhuthachan Malayalam University in Tirur (2012), APJ Abdul Kalam Technological University in Thiruvananthapuram (2014), Indian Institute of Technology Palakkad (2015), and K. R. Narayanan National Institute of Visual Science and Arts in Kottayam (2016). Furthermore, the 'Total E-Literacy Programme' for digital literacy was launched in Thiruvananthapuram, highlighting Chandy's focus on education.
Under Oommen Chandy's leadership, the inauguration of the MW solar project at Cochin International Airport took place, transforming it into the world's first fully solar-powered airport. The airport subsequently received numerous accolades, such as the United Nations' 'Champion of the Earth' award in 2018 and the 'Best Airport in Asia-Pacific' in 2020 by the Airports Council International.
Under his leadership, the Kerala Urban Road Transport Corporation (KURTC) was inaugurated in April 2015, and the work on the final phase of the Kollam Bypass commenced in May of the same year. Chandy's government also prioritized social welfare, doubling pensions and introducing free rations for the unemployed and housing for the homeless. They ensured a minimum price for rubber, distributed food kits during festivals, and provided free rice to those below the poverty line. In a significant move, they decided to ban liquor across the state. Chandy's tenure culminated in Kerala being declared India's first fully digital state in February 2016.