Sara Ali Khan's Diet & Workout Plan
Sara Ali Khan has definitely caught the eye of each Bollywood fan by now. Isn't it? Even before she debuted in the glamour world, she had been in the limelight for being a star kid. Sara Ali Khan was born into the royal family of Pataudi to Saif Ali Khan and Amrita Singh; yesteryear blockbuster actress, Sharmila Tagore, is her grandmother. When she was a child, she was often seen accompanying her father to various events. Sara has always been paparazzi-friendly. Moreover, this star kid's sense of style and traditional dresses and accessories with bangles have made her a fashionista. Each one of us must have seen Sara's drastic transformation from a whopping 96 kg. As a kid, she was quite a foodie. While on Karan Johar's chat show 'Koffee With Karan,' she mentioned that she loved eating pizza from 'Tom's Delicious Pizza' when she was in New York; studying at Columbia University. It was only after her senior years that her eyes caught the attention of a Vitamin Shop right next to the pizza place and so, her transformation began. Let us see what workout plan Sara follows, what diet chart she undertakes, and what her fitness regime is.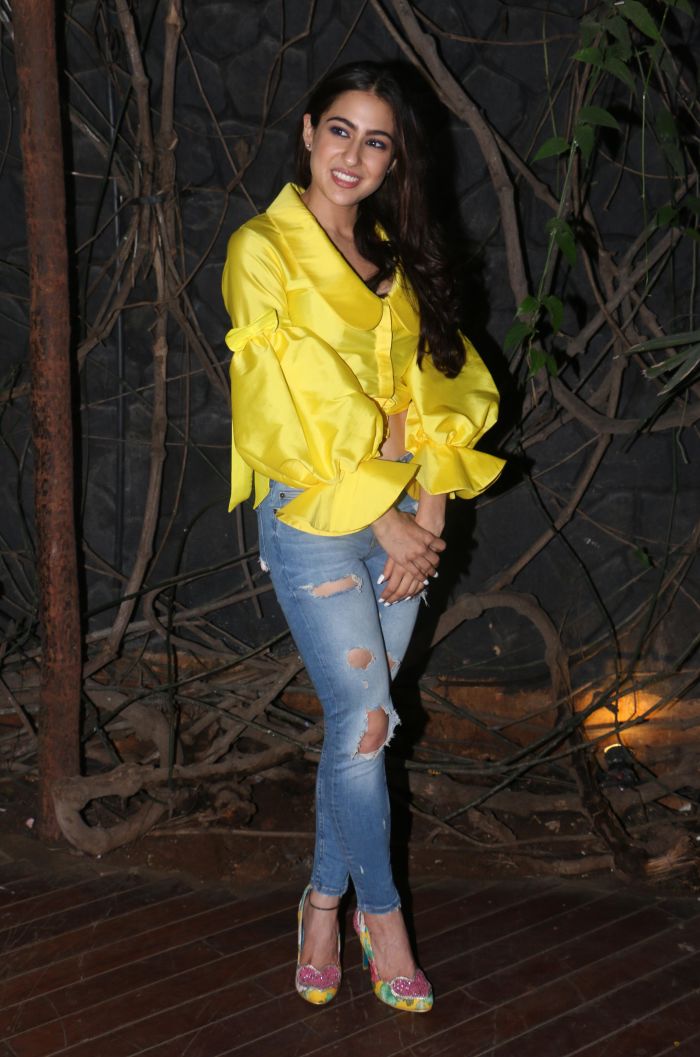 Sara Ali Khan's Diet Plan
Sara Ali Khan's diet plan is not very complex. Ever since she embarked her weight loss journey, she has been vocal about her weight and fitness regime. Sara has suffered from PCOD (Polycystic Ovarian Disease) and was already away from home for studies; because of which she gained weight. She encourages everyone to eat what is healthy and right for the body. Sara does not starve herself at all. She likes to eat at regular intervals of time. Her diet is loaded with fiber-rich foods.
Breakfast:
Sara Ali Khan drinks a glass of warm water after waking up in the morning. She prefers to have idlis, egg whites, bread toast in the breakfast.
Lunch:
Whatever Sara does and wherever she happens to be, she always likes to have homemade food for lunch. Her lunch is composed of chapatis, dal, salad, fruits, and vegetables.
Snacks:
Just like all of us, Sara is quite particular about her evening snacks as well. A bowl of upma serves to be the perfect evening snack for her.
Dinner:
Her dinner is simple and usually consists of green vegetables and chapatis.
Sara Ali Khan makes it a point to feed her body well. So, before every vigorous workout, she eats one bowl of muesli along with some fruits and oats. After the workout, she likes to have tofu, salads, legumes, and a protein shake.
Sara Ali Khan's Workout Plan
Once you get to know about Sara Ali Khan's fitness regime, you might be inspired to hit the gym as soon as possible. With her workout videos surfacing online and going viral, Sara is leaving no stone unturned to render major fitness goals. She has been clicked regularly by the paparazzi coming and going into the gym, pilates class, or even working out at the boot fitness camp.
Sara Ali Khan is also known for her uncanny resemblance to her mother. And now, her regular gym visits to be in shape have made her the talk of the town.
If you dont believe us, have a look yourself,
Sara Ali Khan regularly undergoes Boot Camp training under Cindy Jourdain; who also happens to be the Boot Camp trainer of Shahid Kapoor's wife, Mira Kapoor.
Sara Ali Khan, while on Karan Johar's chat show, also shared that she used to run on the treadmill while listening to Hindi songs.
To add a bit variety to her fitness regime, she also attends Pilates sessions. Her Pilates trainer, Namrata Purohit, is a well-known in the glamour world; who also happens to be the Pilates instructor of her step-mom, Kareena Kapoor Khan.
Her vigorous training and hardcore workout regime has helped her shed all the extra pounds and be in shape.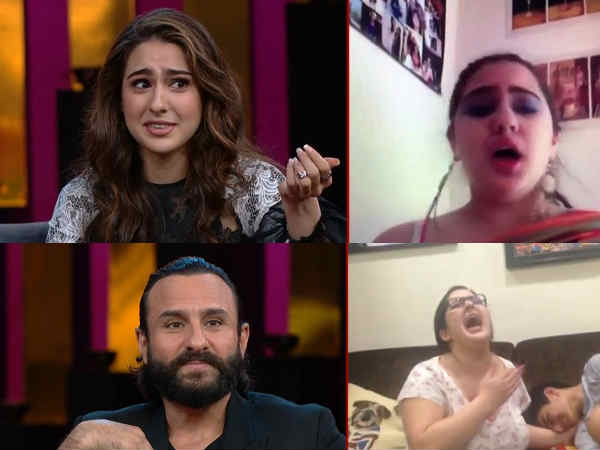 What's more is that she has made 'workout buddies' with Malaika Arora Khan, Amrita Arora, and Nimrat Kaur.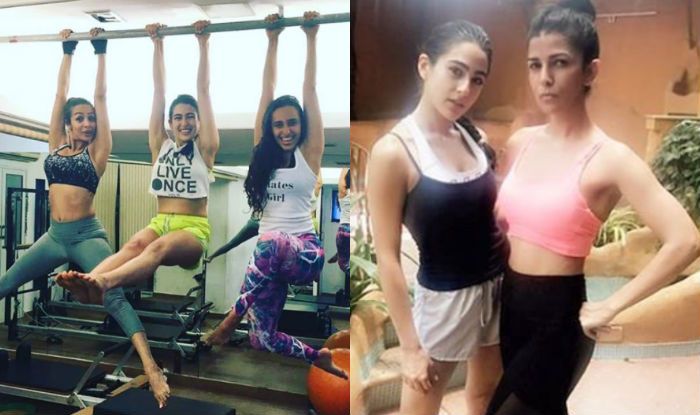 Sara Ali Khan has also left no chance to create a statement with stylish workout wear and can often be seen wearing shorts paired tank tops.