Jarnail Singh Bhindranwale Age, Death, Wife, Children, Biography & More
Quick Info→
Age: 37 Years
Death Date: 06/06/1984
Hometown: Moga, Punjab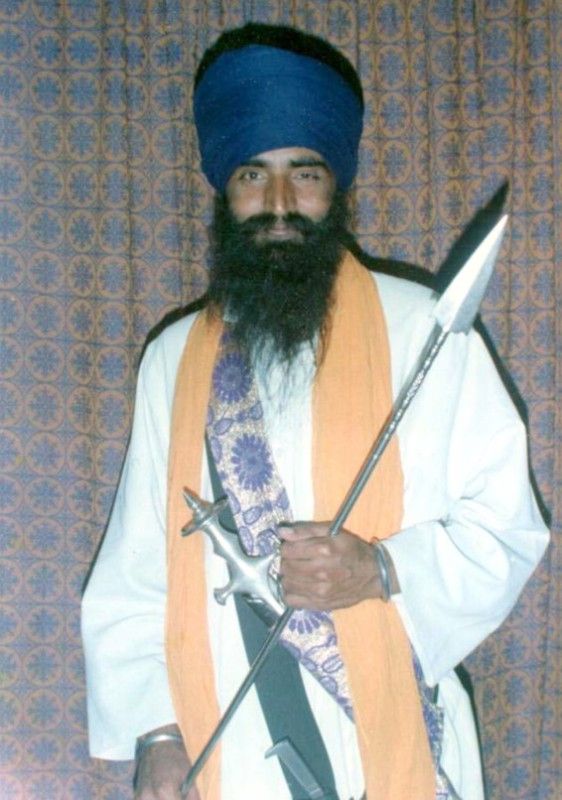 Bio/Wiki
Real name
Jarnail Singh Brar [1]

The Economic Times
Profession
Religious Preacher
Famous for
Death in Operation Blue Star
Physical Stats & More
Height (approx.)
in centimeters- 178 cm
in meters- 1.78 m
in feet & inches- 5' 10"
Weight (approx.)
in kilograms- 70 kg
in pounds- 154 lbs
Eye Colour
Brown
Hair Colour
Black
Personal Life
Date of Birth
2 June 1947 (Monday)
Birthplace
Rode village, Faridkot district, British India (now Moga district, Punjab, India)
Date of Death
6 June 1984
Place of Death
Golden Temple, Amritsar
Age (at the time of death)
37 Years
Death Cause
He succumbed to the bullet wounds sustained during the fight against Indian Army in the Golden Temple, Amritsar in Operation Gold Star. [2]

India Today
Zodiac sign
Gemini
Nationality
Indian
Hometown
Moga, Punjab
School
Government school in his village
Educational Qualification
He dropped out of school at the age of 11.
Religion/Religious Views
He was a devout Sikh and the 14th Jathedar of the Damdami Taksal, an important organisation related to Baba Deep Singh. He urged and preached to Sikhs to give up drugs, alcohol, and pornography, taste Amrit, keep uncut hair and beard, wear knee-length Kurta, keep Kirpan, study regional books and live a simple life. He conducted many religious congregations all over India.
Caste
Brar, a Jat Sikh caste mainly found in Punjab
Food Habit
Vegetarian
Relationships & More
Marital Status (at the time of death)
Married
Family
Wife/Spouse
Pritam Kaur
Children
He had two sons named Ishar Singh and Inderjit Singh.
Parents
Father- Joginder Singh Brar (Farmer)
Mother- Nihal Kaur (Homemaker)
Siblings
Brother- Six (Jagir Singh, Jagjit Singh, Jugraj Singh, Harjeet Singh, Veer Singh, and Captain Harcharan Singh Rode)
Sister- One (Name not known)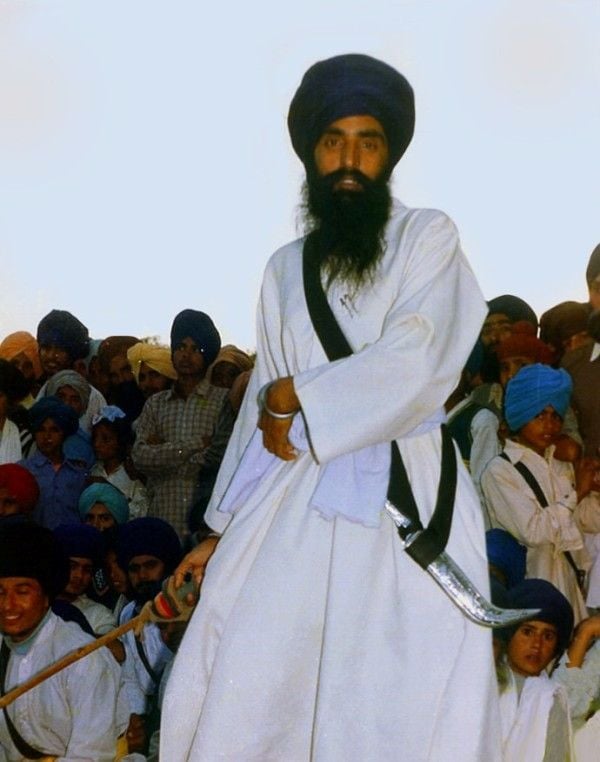 Some Lesser Known Facts About Jarnail Singh Bhindranwale
Jarnail Singh Bhindranwale (1947-1984) was a prominent Sikh leader and the 14th Jathedar of the Damdami Taksal, a Sikh religious organisation. Although he never contested any elections nor he participated in any political rally, he became the most influential person in Punjab in the early 1980s. His speeches are very popular among the Punjabi rural masses. He is considered one of the most prominent figures in recent Punjabi history. He died during Operation Blue Star in 1984 in the Golden Temple Complex.
He was enrolled at the Sikh religious school Damdami Taksal, also known as the Bhindran Taksal, in 1965 by his father. It was situated at the Gurudwara Akhand Prakash in the village Bhindran Kalan where its leader Gurbachan Singh Bhindranwale aka Gurbachan Singh Khalsa also lived. He spent the next year touring the villages in Punjab, studying the scriptures, history, and beliefs of the Sikh religion during his stay at the Gurdwara Sis Asthan Patshahi IX near Nabha.
He returned back home in 1966; however, he continued visiting Damdami Taksal in Bhindran Kalan, and after the death of Gurbachan Singh Khalsa in 1969, he continued studying under Kartar Singh, the new leader of Damdami Taksal, who shifted the headquarters of the Damdami Taksal to the Gurdwara Gurdarshan Prakash at Mehta Chowk, near Amritsar.
He gradually became Kartar's best student, and Kartar announced Jarnail as his successor to the Head of Damdami Taksal. Kartar died in a car accident on 16 August 1977, and subsequently, Jarnail was appointed as the 14th Jathedar of the Damdami Taksal on 25 August 1977 in a Bhog ceremony at Mehta Chowk. He adopted the name Bhindranwale, which means from the village of Bhindran Kalan and attained the religious title of Sant and dedicated himself full-time to the religious works of Taksal.
After becoming the Jathedar, he started touring the villages of Punjab, preached scriptures, and urged them to give up consumerism, drugs and alcohol, and return back to the life of Khalsa (living by the rules of the Sikh religion). He spoke against social evils like dowry and pornography during many of his congregations. Despite not knowing English, his speeches became very popular as he was well-versed in the Punjabi language and were distributed through audio cassettes.
Many Punjabi people followed his words and started a religious life. Many quit drugs, tasted Amrit, and started wearing Turbans and growing beards. He also started conducting courts during social gatherings, which were visited by people whose issues were getting delayed to be solved in the law courts. He solved their grievances by quoting references from the old Sikh scriptures.
He gave a speech in Golden Temple, Amritsar that he would not allow Sant Nirankari Mission to organise its convention in Amritsar on 13 April 1978. Then, he, along with a procession of 200 Sikhs, marched towards the place where the convention was taking place. Fauja Singh, the head of the Akhand Kirtani Jatha, attempted to behead Gurbachan Singh, Nirankari Chief at that time, using his sword; however, Gurbachan's guards shot him dead. Several people died on both sides, and many were injured.
His name made the headlines of leading newspapers after this incident. After the public outrage, a criminal case was registered against Gurbachan and 62 Nirankaris. The case hearing took place in Haryana in which all the people were acquitted on the charges of self-defence on 4 January 1980, two days before the Lok Sabha elections.
Massive demonstrations were organised in Punjab to protest against this decision, and Jarnail gave many speeches against Indira Gandhi, accusing her of interfering with the case. It was also alleged that she used her power to organise the release of the convicts as the Sant Nirankari organisation supported her implementation of Emergency in 1975.
He helped Fauja Singh's widow Amarjeet Kaur to create the Babbar Khalsa organisation to take revenge for the death of Sikhs in the 1978 clash. He gave shelter to many people in the Golden Temple after they clashed with other people they viewed as opposers of the Sikh religion.
On 24 April 1980, Gurbachan Singh was assassinated outside his home in Delhi, while he was coming back from a public ceremony. A case was registered against 20 people including Jarnail. He hid at Golden Temple to evade arrest and came out of hiding after the announcement in the Indian parliament by then-Indian Home Minister Zail Singh that Jarnail had no hand in Gurbachan's assassination.
When his name was removed from the FIR, Jarnail declared that Gurbachan Singh's killer shall be awarded by Akal Takht, and he would weigh them in gold if they came to him. Ranjit Singh, a member of the Akhand Kirtani Jatha, surrendered on 23 November 1983, who was sentenced to life imprisonment and later came out on bail in 1996. His bail was cancelled one week later; however, he refused to come back and sent a clemency plea to the President for relief. On 9 November 1997, he was pardoned by then-Indian President, K. R. Narayanan.
One of the witnesses during the Nirankari hearing was Lala Jagat Narain, an Arya Samaji and the founder-editor of the Punjab Kesari newspaper, who wrote several editorials against Jarnail and urged Hindus in Punjab to declare Hindi as their mother tongue instead of Punjabi. He was murdered on 9 September 1981 following which an arrest warrant was issued against Jarnail, who was on a preaching tour at Chando Kalan village in Hisar, Haryana.
On 14 September 1981, a combined police team of Punjab and Haryana Police raided the village which was met with armed resistance by the villagers. Jarnail managed to flee the village and took refuge in Gurudwara Gurdarshan Prakash at Mehta Chowk, Amritsar.
On 20 September 1981, a police team went to apprehend him; however, many Sikhs surrounded the Gurudwara who were armed with spears, swords, and guns. Then CM of Punjab, Darbara Singh, told the police to arrest him after which some senior officials went inside the gurudwara to negotiate his arrest.
Jarnail agreed to surrender at 1 pm; however, he put forth a condition to address the gathering in the gurudwara, which was accepted by the police officials. In his speech, he said that he was innocent and that it was the oppressing policy of the government against Sikhs. He also requested the crowd to stay peaceful during his arrest. He was arrested and brought to a circuit house instead of prison.
After his arrest, the situation became violent all over Punjab. The crowd fought with the police during which 18 people died. Many places in Gurdaspur, Amritsar, and Faridkot were bombed, three men fired on the public in a market in Jalandhar, and an Air India flight (then Indian Airlines) was hijacked by Dal Khalsa member Gajinder Singh and taken to Lahore on 29 September 1981.
Zail Singh, then-Indian Home Minister, announced in the Indian Parliament that Jarnail was innocent. Harchand Singh Longowal (an Akali leader), Gurcharan Singh Tohra (then-Shiromani Gurdwara Parbandhak Committee (SGPC) President), and Gurdial Singh Ajnoha (then-Jathedar of the Akal Takht) also supported Jarnail publicly.
On 14 October 1981, Punjab Police released him, and soon after his release, he announced that Lala Jagat Narain's killers shall be rewarded by Akal Takht, and he would weigh them in gold if they came to him. His dramatic release earned him the respect of Sikhs all around the world, and they began to view him as a supreme commander of Khalistan (Sikh separatist movement).
It has been alleged that Jarnail was supported by Congress and Akali Dal at different times, who used the influence of both parties to spread his message of Sikh brotherhood and increase his outreach. Reportedly, Sanjay Gandhi, Indira Gandhi's son, approached Jarnail after the loss of Congress in the 1977 general elections; however, Jarnail turned against them after the 1980 elections. Akali Dal also tried to gain his support after the 1980 elections loss. He never ran for any political position and kept his identity separate from politics.
On 20 April 1982, he evaded an attempt to arrest him at the Singh Sabha Gurdwara in Dadar, Maharashtra and fled to Mehta Chowk, Amritsar. On 19 July 1982, police arrested Amrik Singh, All-India Sikh Students Federation (AISSF) head, with two of his followers. On 20 July 1982, police arrested Thara Singh, another leading member of the Damdami Taksal. He organised a meeting on 25 July 1982 to find ways to secure their release.
On 4 August 1982, Jarnail launched the Dharam Yudh Morcha with the support of Akali Dal. The movement demanded an end to the centre's control of Punjab's river waters and its distribution, state control of the headworks, better procurement prices and subsidies for the state's farmers, maintenance of the ratio of Sikhs in the army, protection of Sikhs outside Punjab, Punjabi as a second language for states with significant Punjabi-speaking populations, amendments to tax and property policies for rural populations, a broadcasting station, a dry port at Amritsar, and a stock exchange at Ludhiana.
Many people participated in the movement, and more than 25000 were arrested. 220 people died in the first 19 months of the movement out of which 190 were Sikhs. Several rounds of talks were held between Akali leaders and Swaran Singh, then-Indian Cabinet Minister, who participated on the behalf of then-Indian PM, Indira Gandhi. Negotiations were finalised; however, they collapsed when she changed the terms and conditions before presenting them to the parliament.
Violent clashes between the militants and police increased at an alarming pace, and Jarnail became notorious for his call for armed resistance. Allegedly, Jarnail said in a speech that every village should have three youths with three high-quality revolvers and a motorcycle. On 23 April 1983, Avtar Singh Atwal, DIG of Police Jalandhar range, went to Golden Temple to pray; however, he was shot dead by a lone gunman when he was leaving the Golden Temple premises. His body stayed at the gate for two hours and was retrieved after Darbara Singh, then-Punjab CM, called Jarnail and requested him to allow the Police to pick up his dead body. On 5 October 1983, a group of masked men stopped a bus going from Kapurthala to Jalandhar in Dhilwan near Kapurthala, separated Sikhs and Hindus, and killed 6 Hindus.
Jarnail gave several speeches against the Central and state government and ministers, alleging differences in the treatment of Hindu and Sikh prisoners, fake encounters of Sikhs, and government inaction against the police officials. President Rule was imposed in Punjab on 6 October 1983 after the Dhilwan massacre following which Akali Dal backed out of the movement in December 1983, leaving Jarnail as its sole leader.
In 1984, the violent incidents grew manifolds and more than 300 people died between January 1984 and June 1984. Revenge killings started happening in Delhi and Haryana in response to the killings of Hindus in Punjab. Sikhs from other states started moving to Punjab, and Hindus from Punjab moved out to other states to save their lives. Jarnail condemned the killings of Hindus; however, he openly asked the Sikhs to kill everyone who was against the Sikh religion. Sikhs in Army and Police were also relieved from their duties, many of whom later joined Jarnail's movement.
Jarnail was seen as the supreme commander of the Khalistan movement (Independent nation for Sikhs); however, he said that he is neither in support nor in opposition to Khalistan. Many of his followers claim that he never claimed Khalistan and was misquoted by the government and media. He openly declared that he would definitely accept Khalistan if it is given to him. Noted Indian politician and former journalist Subramanian Swamy spent several days with Jarnail and claimed that Jarnail never claimed Khalistan and only wanted more autonomy for Punjab and Sikhs. [3]

Hindustan Times
On 19 July 1982, Jarnail moved to Guru Nanak Niwas guest house near Golden Temple with his 200 followers. He convinced Gurcharan Singh Tohra, then-SGPC President, to move to Akal Takht Complex in the Golden Temple; however, Harchand Singh Longowal, then-President of the Akali Dal, opposed him, and Longowal's supporters in the Babbar Khalsa organisation asked Jarnail to move out of Guru Nanak Niwas guest house.
Harchand Singh Longowal approached the head priest of the Akal Takht, Kirpal Singh, and urged him to issue an edict (Hukmnama) to stop Jarnail from moving to Akal Takht. Kirpal considered Jarnail's move as sacrilege as no one had ever moved inside Akal Takht, that too on the floor above the Granth Sahib; however, Gurcharan Singh Tohra convinced Kirpal to let Jarnail move to Akal Takht. On 15 December 1983, Jarnail Singh moved to the Akal Takht Complex and visited Deputy Commissioner's residence on the same day and assured him that his stay was not to hide from the law.
Several reports started coming in the media in April-May 1984 that arms were supplied to his men inside the Complex using trucks for supplying food to the Langar Seva, and protective formations were being made using sandbags inside the Golden Temple Complex. Then-Indian PM Indira Gandhi gave an order to the Indian Army to plan an attack to take back the Golden Temple Complex from him and his armed followers. On 3 June 1984, a 36-hour curfew was imposed on the state with all methods of public travel and communications cutoff, complete media censorship enforced, and the electricity supply was interrupted. The martyrdom day of the Fifth Sikh Guru, Guru Arjan Singh also fell on 3 June, hence a large number of Sikhs were present in the Golden Temple.
General Arun Shridhar Vaidya, then Chief of the Indian Army, and General Krishnaswamy Sundarj planned the attack named Operation Blue Star, and Lieutenant General Kuldip Singh Brar was chosen as the commander of the operation. As per Army records, the Indian Army entered the Golden Temple on the night of 5 June 1984; however, eyewitnesses claim that the first attack was done on 1 June 1984.
It is alleged that Jarnail Singh died on 6 June 1984 at the age of 37 while fighting against the Indian Army; however, some sources claim that he was captured alive and was killed later during interrogation while other sources claim that a few of Babbar Khalsa members killed him after he refused to fight alongside them against the Indian Army. His body was retrieved on 7 June 1984 and was identified by police, the intelligence bureau, and Jarnail's brother Harcharan Singh Rode. His last rites were done on the evening of 7 June 1984 according to Sikh traditions.
SGPC declared him a martyr on 6 June 2003, the 19th anniversary of his death and gave a robe of honour to his son Ishar Singh at Akal Takht.
He used to carry a silver arrow like the tenth Sikh Guru Guru Gobind Singh.
Research and Analysis Wing (RAW), Indian Intelligence service, planned an operation named Sundown to kidnap him from the Mehta Chowk Gurudwara and Golden Temple complex; however, then-Indian PM Indira Gandhi cancelled the operation as she feared that it would result in a large number of civilian casualties. [4]

BBC
As revenge for Operation Blue Star, Sikh bodyguards of Indira Gandhi shot her multiple times on 31 October 1984 in Delhi, which resulted in her death. Indian Army chief A. S. Vaidya was murdered on 10 August 1986 in Pune, Maharashtra.
There is a sports stadium in his village named Sant Jarnail Singh Ji Khalsa Stadium.
His brother Captain Harcharan Singh Rode served in the Indian Army and fought in the Indo-Pakistani War of 1965.
After his death in 1984, his wife along with her sons moved to Bilaspur village to live with her brother. She died on 15 September 2007 in Jalandhar at the age of sixty.