Swati Maliwal Height, Age, Husband, Family, Biography & More
Quick Info→
Age: 38 Years
Education: BTech (Information Technology)
Marital Status: Divorced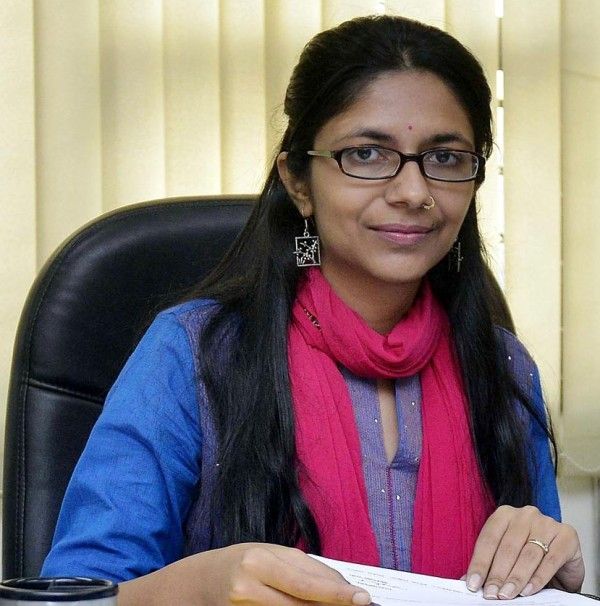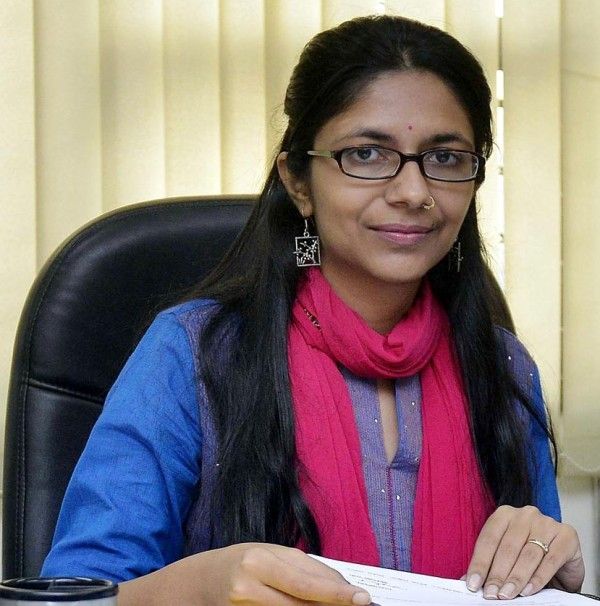 Bio/Wiki
Profession(s)
Politician and Social Activist
Famous for
Being the Chairperson of the Delhi Commission for Women (DCW)
Physical Stats & More
Height (approx.)
in centimeters- 170 cm
in meters- 1.70 m
in feet & inches- 5' 7"
Eye Colour
Dark Brown
Hair Colour
Black
Politics
Political Party
Aam Aadmi Party (2012-present)

Personal Life
Date of Birth
15 October 1984 (Monday)
Age (as of 2022)
38 Years
Birthplace
Ghaziabad, Uttar Pradesh, India
Zodiac sign
Libra
Signature
Nationality
Indian
Hometown
Ghaziabad, Uttar Pradesh, India
School
Amity International School, Noida
College/University
JSS Academy of Technical Education, UPTU
Educational Qualification
BTech (Information Technology) [1]

Delhi Government official website
Religion
Hinduism

Controversies
• Nepotism in Swati's appointment: In 2015, Swati's appointment as the Chairperson of the Delhi Commission for Women came under the scanner as some sources claimed that Swati Maliwal was given the appointment because she is Arvind Kejriwal's cousin-sister from his mother's side. [2]

The Economic Times

• Accusing the Lt Governor of Delhi: In 2015, when Swati Maliwal was selected to take over as the Chairperson of the DCW, Swati accused the Lt Governor of Delhi Najeeb Jung of asking her not to come to work. The accusations were denied by the Lt Governor, stating them to be baseless. [3]

Hindustan Times

• Alleged casteism: In 2018, an FIR was lodged against Swati Maliwal by a family, alleging her of making "casteist remarks." During the anti-alcohol drive in Delhi, Swati received information about a house, where liquor was illegally made and distributed, and when she reached the spot, the family did not allow her to enter their house, as a result of which she hurled casteist slurs on the family. [4]

DNA India

• The Bois Locker Room Controversy: In 2020, a few screenshots from an Instagram chat group called Bois Locker Room were leaked on social media. The chats were leaked by an account named "Siddharth." In the chats, it was alleged that the boys were planning on sexually assaulting a girl. As soon as the issue came to the attention of Swati Maliwal, she issued an order to the Delhi police to arrest the members of the group. Later, it was revealed by the Delhi Police that an account bearing the name of "Siddharth" was a fake account, created by a girl, who was trying to instigate the boys to sexually assault her, whereas all the members of the group were against it and simply refused to be a part of it. Swati came under the scanner once again, for not waiting for the investigations to be completed and also for revealing the names of the members of the group, which led to a boy committing suicide out of humiliation. The public even began demanding Swati Mailwal's arrest, but the issue was allegedly suppressed by the Aam Aadmi Party-led Delhi Government. [5]

The Free Press Journal

• Slapping an accused: In 2022, Swati Maniwal slapped a man, who was accused of burning his wife. She even posted the video of her slapping the man in public on the internet. She was widely criticised by the citizens for resorting to violence when the man was only accused of burning his wife and was not yet proven guilty by any court. [6]

Voice For Men India

• Trolled for accusing her father of physically assaulting her: On 11 March 2023, while speaking to reporters after Delhi Commission for Women's International Women's Day Awards ceremony, she said that she was sexually and physically assaulted by her father in childhood. She said, "I was sexually assaulted by my father when I was a child. I was very small at that time. My father used to beat me up and I used to hide under the bed to save myself. This happened till I was in Class 4." [7]

The Telegraph Later, many people, including former Chairperson of Delhi Commission for Women Barkha Shukla, reacted to Swati Maliwal's allegations of sexual harassment against her father. Barkha Shukla said that Maliwal had lost her mental balance. Shukla added, "I think Swati Maliwal has lost her mental balance. That's why she talks like this. First she made many serious allegations about her husband, after which she is now accusing her dead father. She is making allegations in such a manner which does not exist in this world, it is absolutely wrong and extremely shameful." [8]

The Hindu
Relationships & More
Marital Status
Divorced
Family
Husband/Spouse
Naveen Jaihind (politician) (div.2020)

Parents
Father- Ashok Maliwal (ex-Indian Army officer) (deceased)
Mother- Sangita Maliwal (Chemistry teacher)

Siblings
Sister- Ayesha Maliwal Bundy

Favourites
Politician
Arvind Kejriwal
Singer(s)
Lata Mangeshkar, Anuradha Paudwal
Money Factor
Salary (as DCW Chairperson)
Rs. 30000 + other allowances (as of 2022)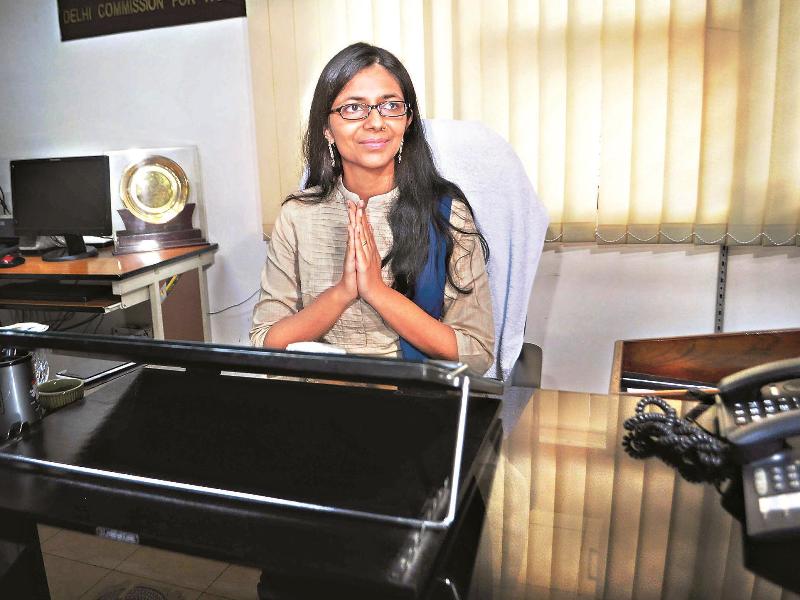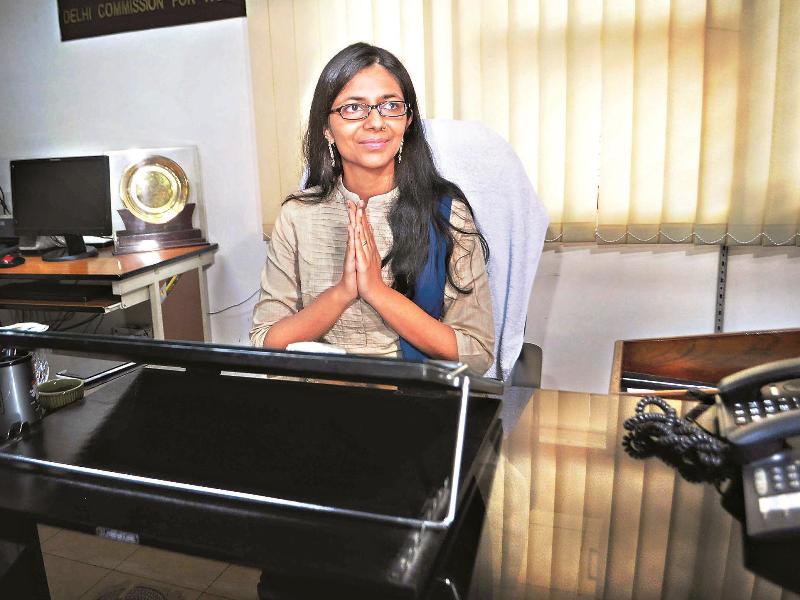 Some Lesser Known Facts About Swati Maliwal
Swati Maliwal is an Indian politician and a social activist. She is currently presiding over the Delhi Commission for Women (DCW) as a Chairperson.
After completing her Class 12 from Amity International School, Noida in 2002, Swati Maliwal in 2006, earned her graduate degree in B.Tech (Information Technology) from JSS Academy of Technical Education, UPTU.
In her class 12th, Swati secured 92%, and in her BTech, she obtained 66%.
In 2002, she was awarded a Certificate of Merit by CBSE for being among the 0.1% of the top scorers in the English language in India.
Post her engineering, in 2006, Swati decided to work with a man, who was providing free-of-cost education to poor children residing in the slums of Delhi. In an interview, she stated,


After completing my engineering, I had a three-month break before my first job. I had an ample amount of time, so one day when I saw a man teaching slum children, I decided to join him. I thought I would do that for some time and then leave it. But, as soon as I started to teach those 30 kids, I got exposed to the disparity and inequality that these children were facing there. I felt guilty for not doing anything for these innocent children, and soon I decided not to take my job and scale up my contribution towards the betterment of the society."
In the early 2000s, Swati Maliwal, along with Arvind Kejriwal and Manish Sisodia, co-founded a non-governmental organisation (NGO) called Parivartan. By 2012, the NGO had become inactive after its founders launched a political party, the Aam Aadmi Party.
From 2006 to 2013, she worked with Public Cause Research Foundation (PCRF), which aimed at addressing the issues pertaining to women empowerment.
From 2008 to 2012, Swati Maliwal looked after PCRF's administrative and financial planning. While working with PCRF, she once visited a few villages in Maharashtra, where she conducted several surveys and gathered 55,000 pages of information.
In 2007, Swati Maliwal presented her suggestions to the Thirteenth Finance Commission of India for bringing the desired financial reforms.
During the 2008 Bihar floods, Swati Maliwal spent three months, working in the flood-affected region for the rehabilitation of the affected local populace.
In 2009, she worked as the Head of the Right To Information Awards. As its Head, Swati Maliwal looked after the planning and strategising of the awards.
In the same year, as the head of the RTI Awards, Swati co-authored a report titled State of  Information Commissions in India – A performance evaluation.
In 2011, Swati Maliwal joined Anna Hazare's India Against Corruption movement and headed its mobilization team. She was also a core member of the campaign. Swati was the youngest member of the Core Committee. The Core Committee included personalities like Kiran Bedi (ex-IPS officer), Prashant Bhushan (Supreme Court lawyer) and Justice N. Santosh Hegde (former Lokayukta of Karnataka).
In the same year, Swati was made a coordinator of Delhi's Anna Andolan. As a coordinator, she was also given the charge of volunteer engagement and training.
In 2014, she played a vital role in the drafting and implementation of the Delhi Nagar Swaraj Bill. The bill was modelled on the Model Nagar Raj Bill.
To ensure better implementation and delivery of public policies, Swati, once, came up with the idea of conducting public meetings (Mohalla Sabhas) in four Municipal Wards, across Delhi. The Mohallah Sabha model was widely successful and gathered massive support from the public.
She, once, worked with the Bihar Government as a Consultant and aided the government in bringing reforms to the Integrated Child Development Scheme (ICDS) policy of the state.
To help the displaced people during the construction of the Yamuna Expressway, Swati, once, helped in the formulation of an alternative framework, which could be used in place of the Land Acquisition Act of 1984.
In 2013, after the Aam Aadmi Party came into power in Delhi, Swati Maliwal acted as the advisor to Chief Minister Arvind Kejriwal on the issues pertaining to public grievances.
In July 2015, Swati Maliwal was appointed as the Chairperson of the Delhi Commission for Women by the Aam Aadmi Party government.
In 2017, as the Chairperson of the Delhi Commission for Women, Swati Maliwal met the women ambassadors from different countries like Mexico, Argentina, Spain, Burundi, Congo, Philippines, Seychelles, and Fiji.
In 2017, Swati Maliwal participated in the Women Safety Conclave, organised by the United States government.
In the same year, Swati Maliwal spearheaded a 40-day long Satyagrah Movement, to protest against the lenient laws against the molesters, which, according to Swati Maliwal, had encouraged them to commit crimes against women in India. The protest was held outside the then Home Minister Rajnath Singh's house. In an interview, she stated,


Our Satyagraha movement was a day and night movement. When for the first time the women commision was out on the road to work for the safety of our women. We worked day and night, and it was only to understand the problem that the women were facing on the roads, trains, metros. It was also to force the government to take stringent actions to curb crime against women."
In 2018, Swati Maliwal demanded justice for the victim of the Unnao rape incident and went on an indefinite hunger strike. Swati Maliwal demanded that a stricter law should be framed within 6-months, with a provision of a death sentence for the rape accused of minors. While giving an interview, Swati Maliwal said,


For the last three years, I have been begging the government to make stringent laws against crime against women. I have written hundreds of letters to Prime Minister Modi demanding some action from his government for the safety of women, but he never cared even to acknowledge any of that. So, I thought even if it takes an Anshan (Hunger strike) to wake the government, I will do that."
Swati Maliwal's protest in 2018 was joined by Nirbhaya's parents and many other social activists and politicians, including Shatrughan Sinha.
In 2018, following the Government of India's promise of fulfilling Swati Maliwal's demand, she decided to break her fast. But a few days later, she decided to once again resume her fasting as the government had failed to fulfil their promise. When asked about the issue, Swati, in an interview stated that,


When I broke my fast, the government had promised us that they would comply completely with all of our six demands including Delhi police force to have more personnel in the next three months, as there is a shortage of 66,000 police personnel in the national capital. We were ensured that a new fast-track court will be set up and nothing has happened till now. The promises the government made is only on papers."
In 2018, she started a new campaign named Rape Roko. She started this campaign after getting to know about an 8-month-old baby, who was raped in New Delhi. Describing the even, Swati stated,


I had gone to meet an 8-month-old rape victim. In the hospital, I took the little baby girl in my arms. The girl had many major injuries all over her body and she was still bleeding. She was crying because of the immense pain."
In 2018, after the Rewari gang-rape incident, she slammed Naveen Jaihind, her ex-husband, for making a controversial remark on rape in which he had offered Rs 20 lakh to any BJP leader who would get sexually assaulted by 10 men. In an interview, she stated,


I sympathise with his anger and pain but I do not sympathise with what he has spoken. I do not agree with his statement and I condemn it. I would suggest to Naveen Jaihind that it is okay that you are feeling angry but when you are in public space you need to control your anger. You need to be careful of what you are speaking."
In 2019, reacting to an anonymous tip-off, Swati Maliwal, along with the Delhi Police, busted a spa sex racket being operated from Rohini, New Delhi.
In the same year, Swati Maliwal organised a Women's Security Campaign named "Ched-Chaad Par Hockey Chaar."
In 2019, Swati Maliwal organised another campaign to increase awareness among the common public about the menstrual cycle. Through the campaign, she demanded equal and basic rights for women during their menstrual cycle.
In 2019, Swati Maliwal met the women representatives of the Professional Fellow Programme and briefed them about the steps taken by the DCW for ensuring the safety of women in Delhi.
In 2020, demanding stricter laws against rapists, Swati Maliwal, in New Delhi, once again went on an indefinite hunger strike.
In 2021, Swati Maliwal's tenure as the Chairperson of the Delhi Commission for Women was extended by the Delhi Government.
In 2021, the Chairperson of the Delhi Commission for Women issued a notice for lodging an FIR against Justdial. Justdial was summoned by Delhi Commission for Women over their alleged role in providing contact information of the spas accused of running sex rackets in Delhi.
In 2022, Swati Maliwal wrote a letter to the Information and Broadcasting Minister Anurag Thakur and the Deputy Commissioner of Delhi Police against a TV commercial made by Layer'r Shot, a deodorant manufacturing company. She demanded that the advertisement must be removed from all platforms because of the detrimental portrayal of women in their advertisement. While giving an interview, Swati Maliwal stated,


The deodorant advertisement blatantly promotes the rape mentality in the country. We have issued a notice to the Delhi Police that an FIR must be registered and the ad of the company must be immediately taken down from all of the platforms."

In the early hours of 19 January 2023, she was allegedly dragged by a car near AIIMS Hospital in South Delhi. According to the police, when she was standing near the hospital, a person, driving a Maruti Suzuki Baleno, approached her and asked her to sit in his car, and when she tried to reprimand him, he dragged her after her hand got stuck in the car's window. Later, Ms. Maliwal took to Twitter to raise questions about women's safety in the National Capital and wrote,


I was inspecting the state of women's safety in Delhi last night. A drunk man in a car misbehaved with me and when I caught him, he stuck my hand in the window glass and dragged me. God saved my life." [9]The Hindu

On 21 August 2023, Swati Maliwal visited a hospital to see a minor girl who had been repeatedly assaulted by a senior Delhi government official, Premoday Khakha. The Delhi Police, however, didn't allow her to meet the girl or her mother because of which Swati spent the night outside the hospital. While talking about this in an interview, she questioned why she, as the DCW chief, was denied to meet the girl or her mother when the NCPCR chairperson was allowed to see the survivor's mother. On 22 August 2023, Swati Maliwal wrote to the Minister of Home Affairs of India Amit Shah, asking him to initiate an enquiry for the actions of the Delhi Police in this matter.